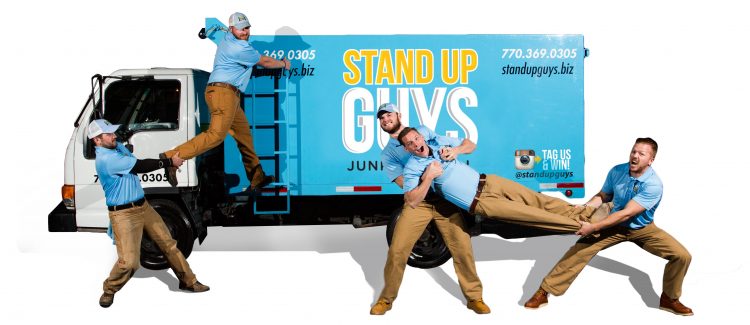 About America's Favorite Office Cleanout Crew
If you need to have your office cleaned or cleared of junk and clutter, look no further than The Stand Up Guys Junk Removal Crew. Let us do all the heavy lifting, loading and hauling. Oh yea and let us do it all for a great price! Stand Up Guys Junk Removal is perfect for all your office clean-out needs. We remove all unwanted items & clutter, clean and sweep all floors and walls. Whatever it is that you need cleaned, we can handle it.
If you have moved office spaces, moved into a whole new building, downsized, or even upgraded offices, then you will definitely need to clean the old one out. When you move from one office to another, even if you keep a majority of your old office appliances and furniture you will find a large amount of items that you won't want, or that are trash. It's exactly the same as when you move out of your home and have leftover moving junk. It's just inevitable.
Other Cleanouts The Stand Up Guys Junk Removal Crew Offer
How It Works – Office Junk Cleanout
If you have come to the realization that you need to clean out the junk in your office, or if you are forced because of a relocation, then it's time make life a little bit easier on yourself and hire The Stand Up Guys Junk Removal Crew. The Stand Up Guys are the number one option for office junk cleanouts for a reason. One of which is we make the entire process as simple as possible for you, even hiring us.
In order to hire The Stand Up Guys you have to do one of two things. You can pick up the phone and give us a call at 1-844-SUG-JUNK and let us know what time would work best for YOUR schedule. Or you can go through our website and book your appointment through our online calendar without ever talking to a real live person. Whichever is easiest for you.
At the time of your appointment, a crew of uniformed Stand Up Guys professionals will come to your office to take a look at everything you have and offer you a free, up-front estimate. We always come prepared and ready to work as well. This way if you like the price that is presented to you, we'll go ahead and take care of everything right then and there for you! Told you it was easy!