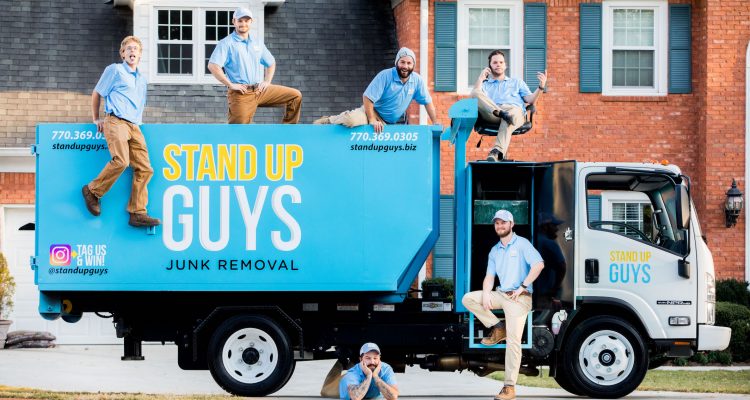 All About America's Favorite Storage Unit Cleanout Crew!
It's really nice for home and business owners alike to have the comfort of a storage unit. You can store items in there that take up too much room in your home or office. You can keep your things in there while you're in the process of moving. Or you can even fill a storage unit with your work tools and benches and use it pretty much as a big tool box.
Yep, we all eventually just have our storage unit filled with the "junk" that we no longer want. When you come to the realization that your storage unit is now just hoarding your junk, you know it's time to clean all that clutter out. Now your next step is the easiest one, just pick up the phone and call The Stand Up Guys Junk Removal Crew.
None of us want to pay for a storage unit that is just holding trash. Stand Up Guys will come out and completely clean out your storage unit for you, and clear your mind of the nuisance, and for a great price to boot. We will filter through everything as you stand there and tell us what stays and what goes, and what goes we can lift and load into the trucks for you, (we don't want our customers lifting even a finger). Also everything that's NOT junk, can be place neatly back into your storage unit, the way it was intended to be.
Other Areas The Stand Up Guys Junk Removal Crew Clean Out
How It Works – Storage Unit Junk Cleanout
Have you heard enough? Are you convinced that you need to remove the junk that is cluttering up your storage unit? If so, then it's time to hire The Stand Up Guys Junk Removal Crew and get the ball rolling on removing all that unwanted junk from your storage unit. Good news too! Hiring The Stand Up Guys is as simple as can be!
All you need to do is pick up the phone and give us a call at 1-844-SUG-JUNK and let us know what a good time would be for our crew to come out. At the time that YOU requested, two uniformed Stand Up Guys professionals will come out to the storage unit and take a look at everything you want to get rid of and offer you a free estimate. We always come prepared and ready to work as well. This way once you give the go-ahead, we will get started and get your storage unit cleaned out right then and there!
No matter where you live, or where your storage unit is, The Stand Up Guys will travel to you. We have locations in Atlanta, GA | Tampa, FL | Raleigh, NC | Nashville, TN | Dallas, TX | Portland, OR and more! So give us a call today and let us help your with your storage unit clean out needs.