Stand Up Guys Junk Removal – Raleigh, NC
The Stand Up Guys Junk Removal Family is still growing! This time we are headed north to the great state of North Carolina. Raleigh-Durham, NC to be exact. From our very new Stand Up Guys Junk Removal Raleigh Branch, we cover all of Raleigh-Durham-Chapel Hill and the rest of the surrounding cities in the Research Triangle. We are bringing the same amazing customer service that we have offered the rest of the Southeast for the last decade to Raleigh. We plan to not only be the number one junk removal and hauling company in the area in no time, but we also plan to be Raleigh's Favorite Junk Removal Crew!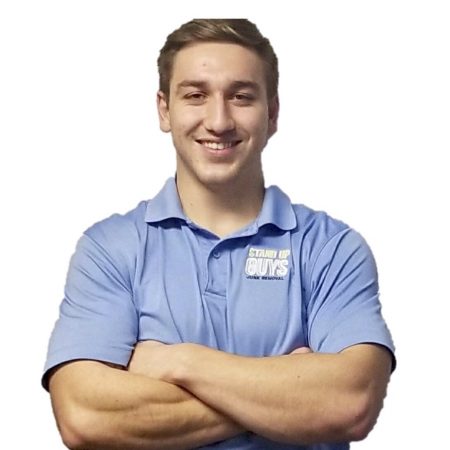 Displayed nicely to your left is the one and only, home grown Raleigh, NC prodigy himself, Mr. Dylan Angelini. Dylan is the Branch Manager of our biggest venture to date, our Stand Up Guys Junk Removal Raleigh, NC Branch.
Dylan has been a Stand Up Guy since way back in 2016 when he first started. Dylan has more than earned his stripes over the years. He put in his time and work as a Stand Up Guy. He started as a Hauler (like most everyone does) and excelled greatly at that. All the Crew Leaders would fight over who got the chance to work with Dylan. That says a lot about someones work ethic, when all your employees fight over who gets to work with you.
After only a few short months of being a great Hauler, Dylan proved himself and made his way up to Crew Leader in record time. He quickly excelled as a Crew Leader, like we knew he would. He got many great accolades from his employees and great, raving reviews from his customers. It was obvious to us here at Stand Up Guys that Dylan had management written all over him. That's not something you can say about every Crew Leader.
After this short period of time putting in his time as a Crew Leader, Dylan made his way up to Branch Manager. The first Manager of our Raleigh Branch to be exact. Dylan has brought his love for great customer service, leadership and love of customer care to his new role as Branch Manager in Raleigh. The numbers and the customers reviews are proof.
Chatham County
Lee County
Franklin County
Learn More About Our Divisions Of Operation
East Atlanta, GA Division
Sarasota, FL Division
Dallas, TX Division
Learn More About Our Managers