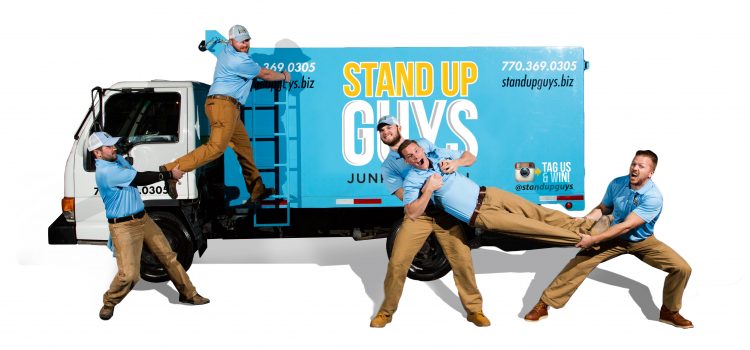 Our Mission – Amazing Customer Service 100% of the Time
A lot goes into our customers service and the entire customer experience here at Stand Up Guys. We want every customer, new and old to have the type of experience that they never forget once they deal with us.
"We're not in the business of just hauling junk, we're in the business of making people happy." – Casey Walsh

We have a 5 mark system that we strive to hit with every customer. This way our customers have the best possible experience when dealing with The Stand Up Guys Junk Removal Crew!
First: From the moment the customer opens our website, we want our customers to feel welcomed; that's why our site is so informative, colorful, and easy to navigate!
Second: When a customer places their first phone call to Stand Up Guys, we go out of our way to be courteous, polite, and always try to work around their schedule.
Third: When we arrive at the customer's house, or place of business, we treat the job and the customer with the absolute, utmost respect, and courtesy. We treat our customers homes as if they were our own too! We also take care of all the loading and lifting, so that they don't have too.
Fourth: Our wonderful pricing, is the way it is for our customers sake only, we don't want them to have to break the bank just to get rid of some junk. So we give every customer the best possible deal.
Fifth: We top it all off by making sure that everything in their home, or office is left spotless, always cleaner than before we were ever there.
Saying that you have good customer service, and actually applying it, are two completely different things. At Stand Up Guys Junk Removal, customer service has always been, and always will be our #1 goal, and the foundation to how we do business. Without our wonderful customers, we would have nothing! Stand Up Guys would just be a couple of guys in matching blue shirts driving around in our big blue trucks, with absolutely nothing to do.
This is the reason customers are so important to us.We don't just offer a "junk removal" service, we offer a service that caters to our customers needs and satisfaction. At Stand Up Guys Junk Removal, the customers are in fact "always right", and always come first.
Customers are the reason Stand Up Guys Junk Removal has survived, and thrived as long as it has, that is why they are so important to us. Our customer service is "everything". We strive to hit these 5 marks with every customer, no exceptions, and we rarely, if never, fail. This way you know, when you are dealing with us, you will be taken care of in the best possible way.