Enter Your Zip Code to Begin Booking
Book Today! $10 Off Online Booking
No matter what you need to be hauled away, Stand Up Guys Junk Removal services can assist with removing your unwanted items. Check out our extensive junk removal services, and we'll give you a free estimate for the cost of your junk removal.
When you enter your zip code, we'll automatically set you up with the Stand Up Guys Junk Removal crew closest to you to get the ball rolling…or should we say the truck rolling.
Pick the junk removal services you're interested in and book your free estimate directly through our form. Give us some basic information on what junk removal service you need and other details, like your location, the amount of stuff, and your desired appointment time.
Talk to a Junk Removal Expert
If you'd rather talk to a real person to make your appointment, just give us a quick phone call to discuss your junk removal needs with a member of our team!
Stand Up Guys Junk Removal Process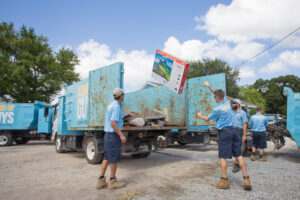 Our team wants to make it as easy as possible for you to schedule a simple, contactless junk removal appointment so we can get to work decluttering your space. You can say goodbye to all of the junk you've been staring at for way too long in just three simple steps!
Book an Appointment
When you're ready to eliminate all the junk plaguing your home, business, or investment property, the first step is to schedule an appointment with our helpful Stand Up Guys Junk Removal crew.
Making your appointment online through our online booking process can save you $10 on your junk removal cost. After giving us your zip code, we will find the closest Stand Up Guys Junk Removal location to you.
Scheduling Your Junk Removal Appointment
All you have to do is provide us with details on what junk you want us to remove and when you're ready for it to be out of sight and out of mind. Give us your preferred junk removal date and time, and we'll give you a call within 30 minutes of your scheduled junk removal appointment. We're committed to arriving on time, so we don't keep you waiting. We're stand-up guys. That's just what we do.
If you prefer to ask questions to a live person before making your appointment, give us a call. We have experienced team members ready to accept your call, take down your information, and provide any answers to your junk removal questions before you book your appointment.
Get a Price Estimate
Before a crew of two junk removal experts get to work on removing your junk, we take the time to evaluate your situation and provide a final price specific to what we're hauling and how much space it takes up in our truck.
Our onsite free estimates ensure that you don't pay a penny until you feel confident that you receive fair junk removal prices for what we haul away. If you aren't comfortable with our junk removal prices, you're under no obligation to accept our offer, nor do you owe us any money for our time.
Affordable Junk Removal Services
We care about helping our customers get rid of their junk; it's that simple. Stand Up Guys junk removal is committed to providing reasonable junk removal prices and ensuring that we get the job done right. Check out our pricing guide for job cost estimates based on how much space your junk will take up in our truck.
Say Goodbye to Your Junk
Once you've made your appointment and settled on a price, the process is entirely hands-off. Stand Up Guys Junk Removal will do all the dirty work for you.
Our Contactless Junk Removal Process
Our crew works on a contactless policy. All you have to do is point to the junk you want us to remove, and we'll load it into our truck. Stand Up Guys Junk Removal operates on a no-touch system, ensuring that our team of junk removal specialists will only come in contact with the things you like us to take away. You can rest assured that the items you don't want us to take will remain untouched and in place throughout your junk removal appointment unless you tell us otherwise.
You can sit back, relax, and watch the Stand Up Guys Junk Removal team get to work. We lift and load all of your junk into our truck to help your space (and your life) feel less cluttered than before.
We Haul It All…Almost
Our junk removal company can handle almost all of your junk removal needs apart from removing dangerous chemicals and hazardous materials. We tackle home junk removal tasks that include old furniture removal, bulk trash removal, yard waste removal, and appliance removal. Not to mention old exercise equipment removal, garage cleanup, and more!
We can also haul off old play equipment like play sets, broken pools, hot tubs, old lawn care ornaments and equipment, and general outdoor messes like broken tree limbs, leaves, and general rubbish.
Our Junk Removal Services
Plus, we handle full property cleanouts of residential and commercial properties, including apartments, attics, garages, storage sheds, foreclosed homes, old office buildings, and basements. Check out our complete list of junk removal services here.
Stand Up Guys does more than just remove your junk. We can also tackle day labor tasks like furniture rearranging or light demolition. Let us help you make the mess, get the job done, and clean it up for your next home renovation project.
Dispose of Junk
You can even feel good about your junk removal and your role in helping the environment by hiring our junk removal specialists.
Stand Up Guys Junk Removal cares about Mother Earth, and it shows. We sort through your unwanted junk to separate everything and then donate and recycle junk for you. As a result, over 60% of the junk we remove is kept out of landfills and repurposed.
Affordable Junk Removal Near Me
We believe that junk removal services should be easy on our customers and their wallets. While most junk removal companies are known to overcharge for their services, we know that we can best serve our customers by providing fair, affordable services they can feel good about.
When you hire Stand Up Guys for your junk removal service, you'll know exactly what you're paying from the start.
How Our Junk Removal Pricing Works
We base our affordable junk removal costs upon the volume of junk you want us to remove. Our prices vary depending on how much room your junk takes up in our truck.
We don't factor in the time it takes for us to remove your junk into your final quote.
Junk Removal Price Estimate
Our prices are based on how much room your junk will take up in our truck. After the Stand Up Guys see the scope of the project, we'll deliver an up-front price estimate and make an agreement with you before we move a thing.
Check out our guide below to get an idea of how much your junk will fill our truck!
Minimum
2/10
3/10
4/10
Half Load
6/10
7/10
8/10
9/10
Full Load
Minimum Load
This is the minimum amount of junk that Stand Up Guys will quote you for.
2/10 Load
If we're only collecting a few things, it may only take up 2/10 of the room in our truck. We'll give you a junk removal quote accordingly. This load might be something like a few old mattresses, a large appliance, or some small knickknacks like a broken lamp, an old chair, and some garbage.
3/10 Load
A slightly larger load could take up 3/10 of our 8′ W × 5′ H × 12′ L truck. A load of this size may consist of a large appliance, old mattresses, and smaller gear like old furniture, outdated computers, and outgrown sports equipment like bikes.
4/10 Load
Do you have a good bit of junk on your hands? We'll give you a fair price and haul it away! A junk removal service like this could include getting rid of old appliances and junk from a garage, shed, or attic.
Half  Load
A half-truck load is likely if you're doing major cleanups of outbuildings, storage units, garages, attics, or yard cleanup. You may be tossing old decor pieces, broken or unused small appliances and electronics, sports gear, and old furniture.
6/10 Load
The more junk we load, transport, and haul away in the back of our truck, the more you will pay. If your junk takes up 6/10 of our truck, we'll give you a fair price and get to work!
7/10 Load
Get rid of your old furniture, exercise equipment, appliances and electronics, unused tires, lamps, grills, flower pots, bicycles, etc. You can fill out 7/10 of the space with this amount of junk.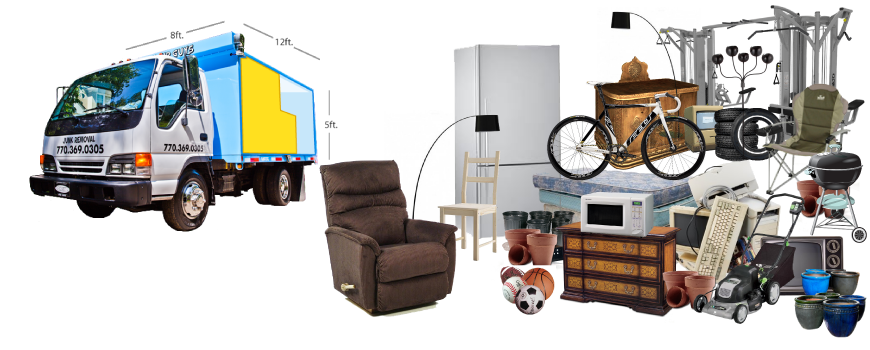 8/10 Load
Do you have a storage shed, attic, garage, repossessed home, or total remodel of junk to haul off? This will fill 8/10 of our truck loaded with your unwanted stuff.
9/10 Load
FIll 9/10 of our truck and clear out larger spaces like your garage, a storage shed, or an attic. In addition, this size can eliminate all of your old furniture, exercise equipment, aged appliances, old yard decor, and any other junk around the house that has outlived its expiration date.
Full Load
If you're overwhelmed with junk? Don't worry! The Stand Up Guys can fill our entire truck with all of your junk and take it away. Choose this deal if you're discarding junk from a whole house or office, moving or relocating, facing a hoarding situation, or tackling other significant cleanups.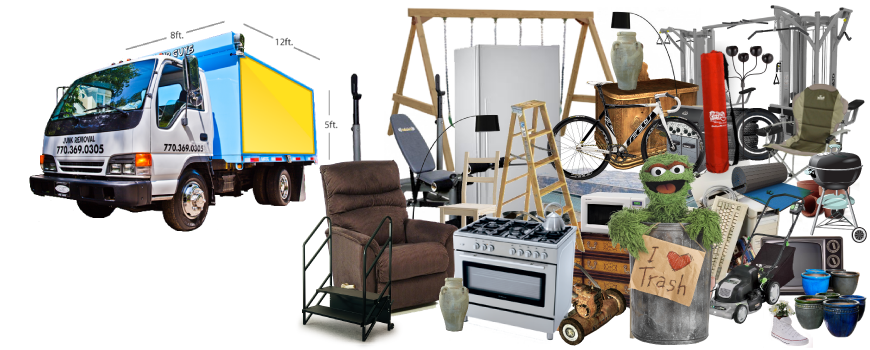 *We will provide you with a no-obligation FREE price quote on-site. Certain item surcharges may apply.
Book Junk Removal Near Me
When you're tired of junk cluttering up your area, you can rely on Stand Up Guys Junk Removal to get rid of the mess. We don't care if it's a residential or commercial property. And we don't care what kind of junk you're scrapping. You'll get one up-front, all-inclusive price based on how much room your crap takes up in our truck.
Schedule Your Free Estimate Today!
Save money when you book your appointment online!
It's that simple to get started – enter your zip code today!