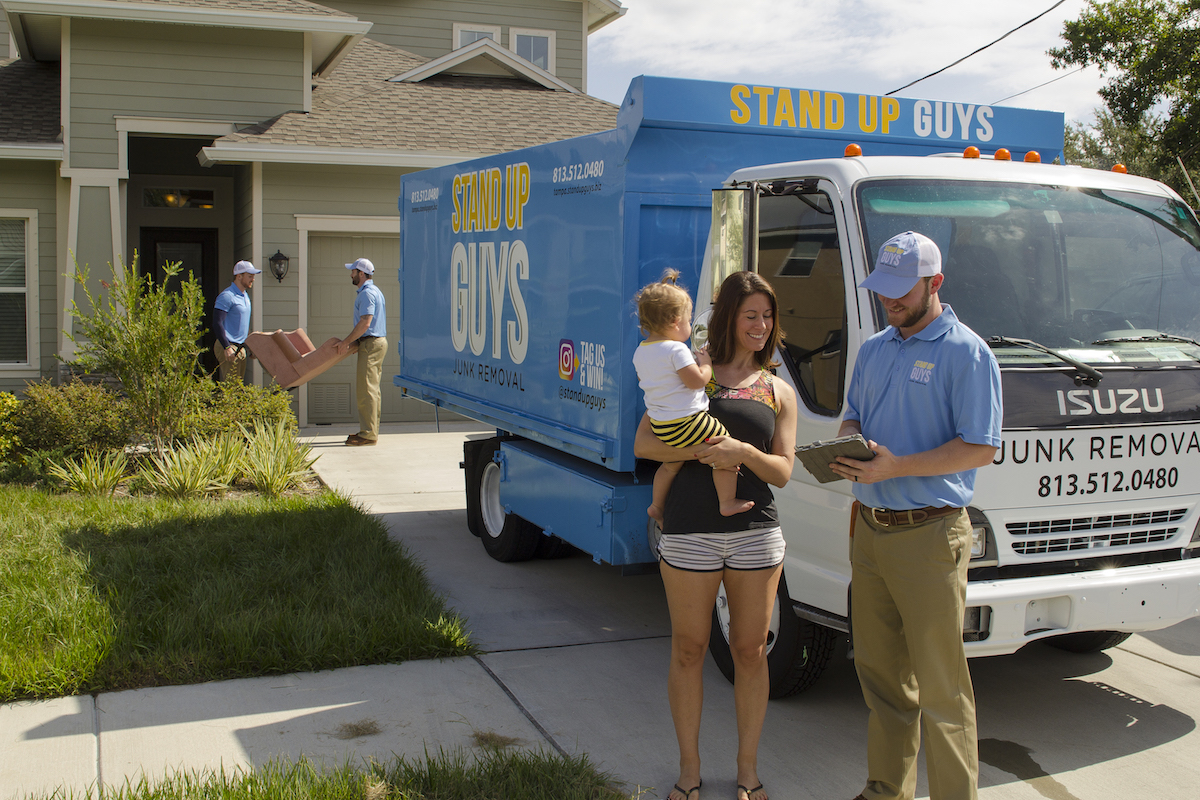 America's Most Adored Garage Cleaning Service – Stand Up Guys Junk Removal
Too much junk and clutter piling up in the garage is a big problem for people all over, it's an epidemic. Even when they finally decide to do something about the junk and clutter, they don't know what steps to take to get rid of their junk, or even where to begin. If you fall under this tragic category of homeowners, don't fret any longer, for I have the remedy for all your garage junk and clutter headaches; The Stand Up Guys Junk Removal Crew.
The Stand Up Guys Junk Removal Crew are your number one source for garage cleaning in the; Tampa Bay, Florida | Metro Atlanta, Georgia | Raleigh-Durham, North Carolina | Austin, Tx | Nashville, Tennessee | Dallas, Texas | Orlando, Florida | Jacksonville, Florida | Sarasota, Florida areas and more. The Stand Up Guys make the entire process of cleaning and clearing out the junk from your garage as simple as pie. The Stand Up Guys will take care of all the heavy lifting, loading, cleaning, clearing, hauling and disposal. Yep, we'll take care of EVERYTHING. All you have to do is sit back, relax and watch as your garage junk and clutter disappears.
The Stand Up Guys have quickly became the number one source for garage cleaning and garage junk removal across the United States for many reasons. One, our customer service is second to none, we take care of all our customers needs 100% of the time. Two, we donate and or recycle over 60% of the items that we remove, back into our communities. This gives our customers peace of mind, knowing that their 'junk' wont just be tossed into the landfill. We'll actually find a new home for all that we can. This is great for the environment and wonderful for the community. One man's trash can truly be another man's treasure.
Other Spaces The Stand Up Guys Cleans Out
How It Works – Garage Cleaning
Hiring The Stand Up Guys Junk Removal Crew to assist you with your junk-filled or cluttered garage is simple. First pick up the phone and give us a call and let us know what time works best around your schedule for us to come out and take a look at what your garage. You can always reach us at 844-784-5865 (SUG-JUNK). If you aren't a big phone talker, or you're in a really big hurry, you can even go ahead and book your entire appointment online!
At the time your requested, two uniformed Stand Up Guys Professionals will arrive at your home to offer you a free, up-front estimate on everything you have. We always come prepared and ready to work as well. This way if you like the price that is presented to you, the Stand Up Guys on-site will go ahead and take care of everything right then and there for you. See, real simple!