#1 Storage Unit Clean-out Service Around – The Stand Up Guys
Looking to get the junk and clutter finally cleared out of your storage unit? Whether you are just trying to clean it out so you can finally get rid of that unwanted storage unit bill, or you just need to make extra room for more, The Stand Up Guys Junk Removal Crew can help. The Stand Up Guys are the number one choice for storage unit cleanouts anywhere!
Most of us have been there, we know what it's like. You decided you were going to get a storage unit to house some extra things from your home or office. It was a great idea at the time, but as time has gone on, you no longer need anything in there. So the storage unit went from a great place to store items, to a glorified landfill. Now you don't know what to do with all of it, but you do know one thing, you don't want to pay for a storage unit that holds your old unwanted junk any longer. What do you do?
The answer to your storage unit junk debacle is simple, you hire The Stand Up Guys Junk Removal Crew! The Stand Up Guys can help you manage everything. From filtering through what you do and don't want, to hauling all the old junk away. We can assist you with everything you need for you storage unit clean out needs, from beginning to end.
Don't worry about where you are either because The Stand Up Guys offer storage unit cleanouts all over. We have branches in The Stand Up Guys Junk Removal Crew offer foreclosure clean outs and hauling all over as well. It doesn't matter where you are, we'll come to you. We service all the metro areas and beyond from our branches in Atlanta, GA | Tampa, FL | Raleigh, NC | Nashville, TN | Dallas, TX | Austin, TX | Orlando, Florida | Jacksonville, Florida | Sarasota, Florida and more!
Other Areas The Stand Up Guys Junk Removal Crew Clean Out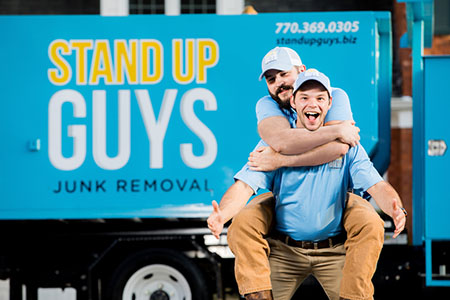 How It Works – Storage Unit Cleanouts
Hiring The Stand Up Guys Junk Removal Crew to assist you with your storage unit clean out needs is simple and effective. We make sure the entire process from start to finish is a breeze for our customers.
First just pick up the phone and give us a call at 1-844-SUG-JUNK (784-5865), or even book your appointment online. Just pick a time frame that works best around your schedule. At the time that you requested, two uniformed Stand Up Guys Professionals will meet you at the storage unit, ready to take a look at everything and offer you a free, upfront estimate.
Since we always come prepared and ready to work, if you like the price that is presented to you, The Stand Up Guys on site will go ahead and get started right then and there. The best part is, we take care of everything. We manage all the heavy lifting, loading, sifting, cleaning and hauling. All you have to do is sit back, let us know what you need and we take care of the rest. It's as simple as that!