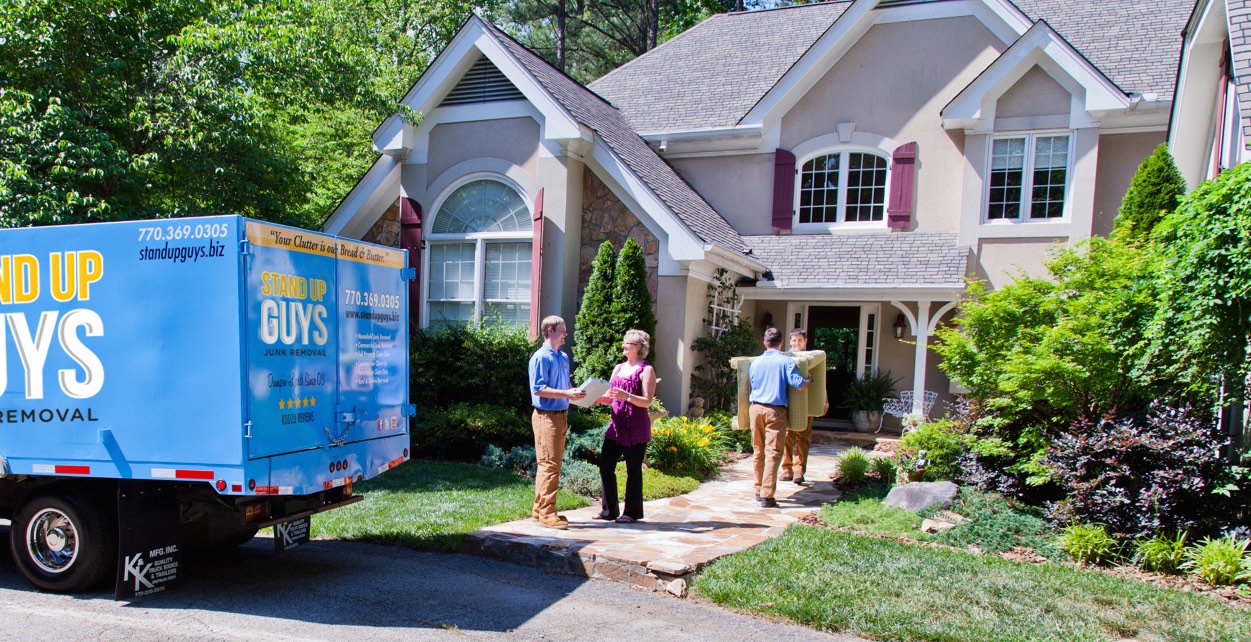 The Stand Up Guys.. More Than Just Junk Removal
The Stand Up Guys Junk Removal Crew offer many different generalized services to our customers. We offer a wide range of services from in-town moving to furniture rearrangement inside your home or office to helping you rip out the old carpet in your newly purchased home. The Stand Up Guys can really do it all for you. We don't limit ourselves to only junk removal.
Even if you're just looking for an extra hand, the Stand Up Guys offer general labor services, with help from one or more of our uniformed "Stand Up Guys" professionals you can get anything done around the house. We also offer light demolition for both commercial and residential customers. So if you're looking to get an old crummy shed taken down, or even your old deck removed. We can help with both.
If you live in Florida, Georgia, Texas, Tennessee, Oregon, or the North Carolina area, and are in need of a helping hand, or even a big truck, you can call Stand Up Guys Junk Removal! Even if what you need isn't listed here!
General Services
Miscellaneous Services

The Stand Up Guys will personally come and visit you at your property and provide you with a FREE Estimate for all of our services!

Once a price is agreed upon, we will begin working right then and there, and in most cases finish the job that day.
Related Services
Other Helpful Services
What Don't We Do?

In-Town Moving
Furniture Rearrangement
Helping Hands
Large Truck Usage
Merchandise Removal
Store Closure Services
Dumpster Alternative
Estate Clean Out
Scrap Metal Removal
Tire Removal
Battery Removal
Recycling Services
How It Works – General Services & Hauling
How it works is simple. If you are interested in hiring The Stand Up Guys Junk Removal Crew to assist you with any of the services listed above, or anything for that matter, then the rest is simple. Hiring The Stand Up Guys is a breeze. We make everything as simple as possible for our customers. This takes a load off for everyone.
First, just pick up the phone and give us a call at 1-844-SUG-JUNK and let us know what it is you need done and when you would like to get it done. You can also schedule your appointment yourself if you so please, through our website on our Online Booking feature.
At the time of your appointment, two uniformed Stand Up Guys Professionals will arrive at your property to take a look at everything you need done and offer you a free, up-front estimate. We always come prepared and ready to work as well. This way if you like the price that is presented to you, we'll go ahead and take care of everything right then and there for you. See, told you it was a breeze.