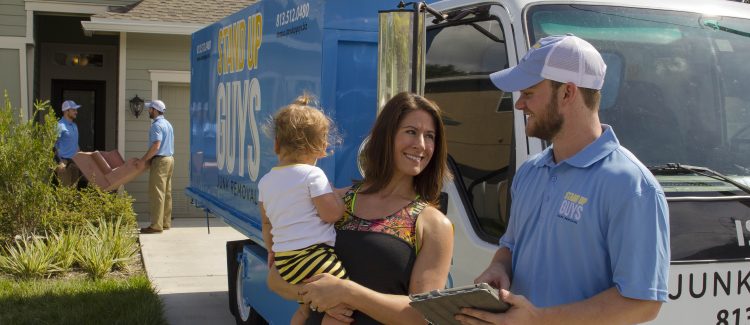 Everyone's Favorite Home Junk Removal Crew
The Stand Up Guys Junk Removal Crew offer residential customers, home owners and realtors many different junk hauling & removal services all throughout the United States. We have earned the title of 'America's Favorite Junk Removal Crew' over the last decade with out stellar customer service and customer care, and attention to detail with every single customer.
The Stand Up Guys will remove any & all kinds of household junk & debris from your home, including: old furniture, appliances, electronics, carpet, hot tubs and much more. We do all this with our customers wallets in mind. We want to make sure that your experience with The Stand Up Guys is not only great, but affordable as well.
All Stand Up Guys Crews in your area donate and recycle as well. In fact, we donate or recycle more than 60% of the unwanted items that we remove. This helps keep unnecessary items out of the landfills, and gives back to the community and the environment at the same time. Donating gives all of our customers peace of mind knowing that their old 'junk' will find a new home.
The Stand Up Guys offer home junk removal all over as well. We have locations in Metro Atlanta, Georgia | Nashville, Tennessee | Raleigh-Durham, North Carolina | Tampa Bay, Florida | Jacksonville, Florida| Orlando, Florida | Dallas-Fort Worth, Texas | Austin, Texas and much more! Give us a call today at 1-844-SUG-JUNK for a Free Estimate!
What Junk We Remove From Homes
Home Junk Removal
Residential Hauling
The Stand Up Guys will personally come to your neighborhood, apartments, or residential home and provide you with a FREE Estimate!
If you agree to the price we will take your junk right then and there and dispose of it in an Eco-friendly & environmentally safe manner.
Home Furniture Removal

What We Haul
The Stand Up Guys have a four step process for every job to insure that your junk is removed and disposed of responsibly and effectively, while at the same time offering great customer service.