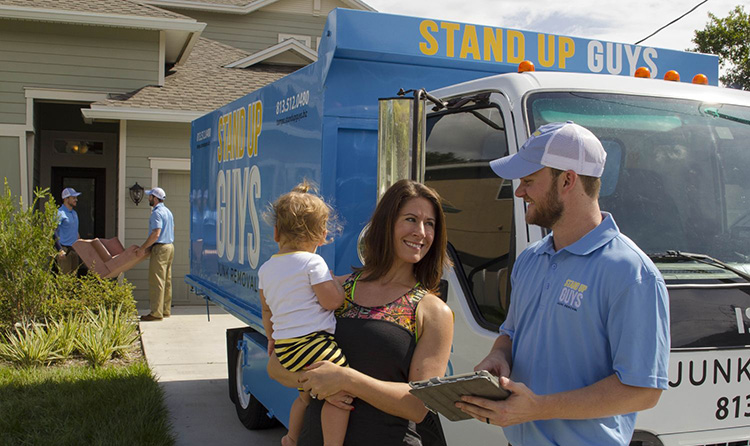 Everyone's Favorite Home Junk Removal Service
Are you sick and tired of dealing with junk, clutter and other unwanted items piling up inside your home? Are you finally ready to do away with everything that's cluttering up your home, your mind and your life? Then it's time to pull the trigger and get your junk removed and get your home and life back? I'm not here to just point out problems. I have the answer to all these issues too, my friend; The Stand Up Guys Junk Removal Crew!  The Stand Up Guys are the perfect solution to your junk problem.
The Stand Up Guys Junk Removal Crew can help you with all of your household junk and debris removal needs. You name it and we'll remove it. Our uniformed, professional crews will remove anything from inside or outside or your home. From old junk furniture and appliances, to yard debris and construction trash, we take it all.
Having the Stand Up Guys remove your junk is great, but the fact that we make your junk and clutter disappear isn't even the best part of our service. Our customer service and value is what makes The Stand Up Guys great, and what keeps people coming back. Our customers, and their needs come first.
Junk We Remove From Homes
Home Junk Removal
Residential Hauling & Junk Pick Up
Pick a time slot that works around your schedule, at that time we'll send out two Uniformed Stand Up Guys professionals to your home to offer a free estimate.
The Stand Up Guys always come prepared and ready to work. This way if you like the price (which of course you will), we'll knock everything out right then and there.
Junk Furniture Removal
What We Haul
How It Works – Home Junk Removal
Hiring The Stand Up Guys to assist you with your home junk removal needs is as simple as pie. First, just pick up the phone and give us a call at 844-784-5865 (SUG-JUNK) and let us know what time works for your schedule to get a free estimate. Or you can even do it yourself through our website with our online booking system.
Next, at the time that you requested, two uniformed Stand Up Guys will arrive at your home. The Stand Up Guys professionals will offer you a free, up-front estimate on removing all your unwanted junk. Then, if you like the price presented, the Stand Up Guys will get straight to work and remove everything right then and there! See, simple as pie.
The Stand Up Guys cover a heck of a lot of ground as well. If you are anywhere in the Tampa Bay, Florida – Metro Atlanta, Georgia – Raleigh-Durham, North Carolina – Portland, Oregon – Nashville, Tennessee, & Dallas-Fort Worth, Texas areas we'll come to you!