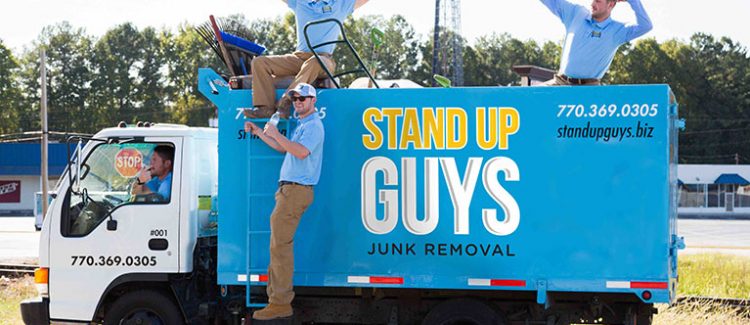 The Number One Refrigerator Removal Service
Are you fed up with the old refrigerator rotting away in the garage? Or maybe you can't stand the one you use everyday in your kitchen and you're dying for a new one? Either way, it sounds like you have 'old junk fridge issues' that you need resolved.
Getting rid of an old refrigerator can be a little tricky. They are bulky, heavy, cumbersome and hard to move. On top of that, they are also extremely complicated to dispose of. There are only a few places that will take them and even then, you must take the necessary steps to make the fridge safe for disposal. Sounds like a massive headache doesn't it? It is.
Don't fret any longer. I have the answer to all your refrigerator removal woes. The Stand Up Guys Junk Removal Crew. The Stand Up Guys are the number one choice for refrigerator removal all throughout Atlanta, GA | Tampa, FL | Raleigh, NC | Nashville, TN | Portland, OR. We make the entire process as simple as possible and as easy as can be for our customers. You're welcome in advance.
Other Items The Stand Up Guys Junk Removal Crew Hauls!
How It Works – Refrigerator Removal
Getting rid of your old refrigerator is not only an extremely simple process with The Stand Up Guys, it's also a very rewarding process as well. You start by picking up the phone and giving a call at 1-844-SUG-JUNK (784-5865) and letting us know what a good time is for YOUR schedule, for us to come out and remove the fridge.
At the time that you requested, we send out two uniformed Stand Up Guys professionals to asses the situation and remove your old fridge. Once we are there, simply point out where the fridge is, then back out of the way and let us do our thing. We don't require our customers to lift a single finger. Just enjoy the show and watch as your old, junk, crap fridge disappears forever!