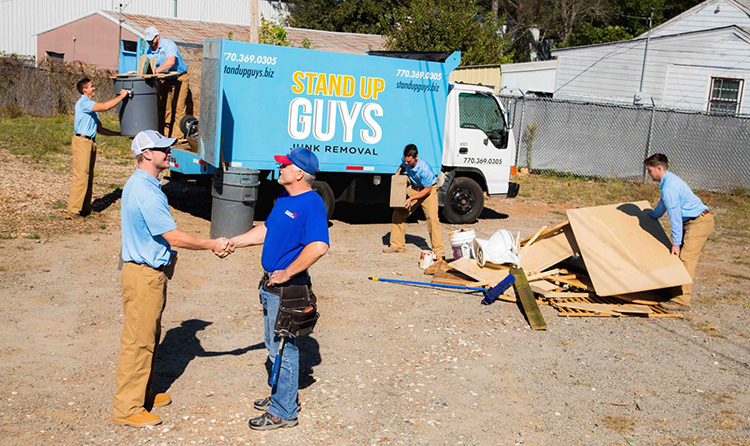 America's Number One Construction Debris Removal Crew!
Are you a homeowner finally getting around to taking care of those home renovations yourself? Or maybe you're a contractor that does commercial and residential renovations on a regular basis? Either way, when doing renovations, or any kind of construction there is one thing everyone has in common.. They all have construction debris that needs to be removed!
Getting rid of construction debris can be a real pain in the behind for anyone. You either have to find a way to do it yourself, or get a massive dumpster, then toss all your debris in there… Yourself. Sometimes the dumpster is more than you need, or the place you live or are working at won't allow it. So then what do you do!? Well, don't fret any longer, I have the answer to all your construction debris removal woes.. The Stand Up Guys Junk Removal Crew!
The Stand Up Guys Junk Removal Crew can manage all of your construction debris hauling needs. We make it easy for you and all parties involved. When hiring The Stand Up Guys you don't have to worry about where to put a dumpster, or where to put the junk, and you don't even have to worry about doing any of the grunt work. We take care of EVERYthing. The Stand Up Guys will take care of all the lifting, loading, hauling, cleaning and disposal. We're truly a one stop shop for construction debris removal.
Don't worry about where you are either, because we cover all over. The Stand Up Guys Junk Removal Crew covers all across the US. This currently includes, the following states; Florida, Georgia, North Carolina, Oregon, Tennessee, & Texas
What Else Does Stand Up Guys Junk Removal Take?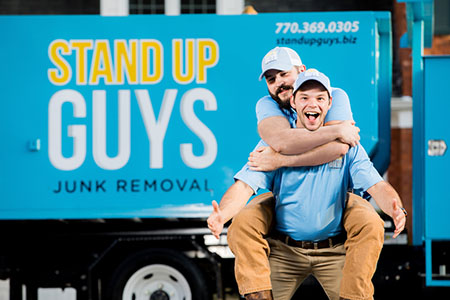 How It Works – Construction Debris Removal
Are you convinced? Are you ready to hire the awesome Stand Up Guys to help you with your construction debris removal needs? Don't worry, the process is as simple as pie. Once your mind is made up, the rest is a breeze.
First just pick up the phone and give us a call at 1-844-(SUG-JUNK) and let us know what day and time you'd like us out. Or, if you like you can do it all right now without picking up the phone, just go to our online schedule and book online NOW!
At the time that you requested, we'll send out two uniformed Stand Up Guys professionals to take a look at everything you have and offer you a free, upfront estimate. The Stand Up Guys always come prepared and ready to rock and roll. This way if you like the price, we go ahead and take care of everything right then and there. Told you, easy as pie.
We have alternate options for our contractors as well. If you are looking for construction site dumpster rental, we can help you with that as well. The Stand Up Guys can rent your our world famous Junk Bucket Dumpsters for all your construction site clean up needs.