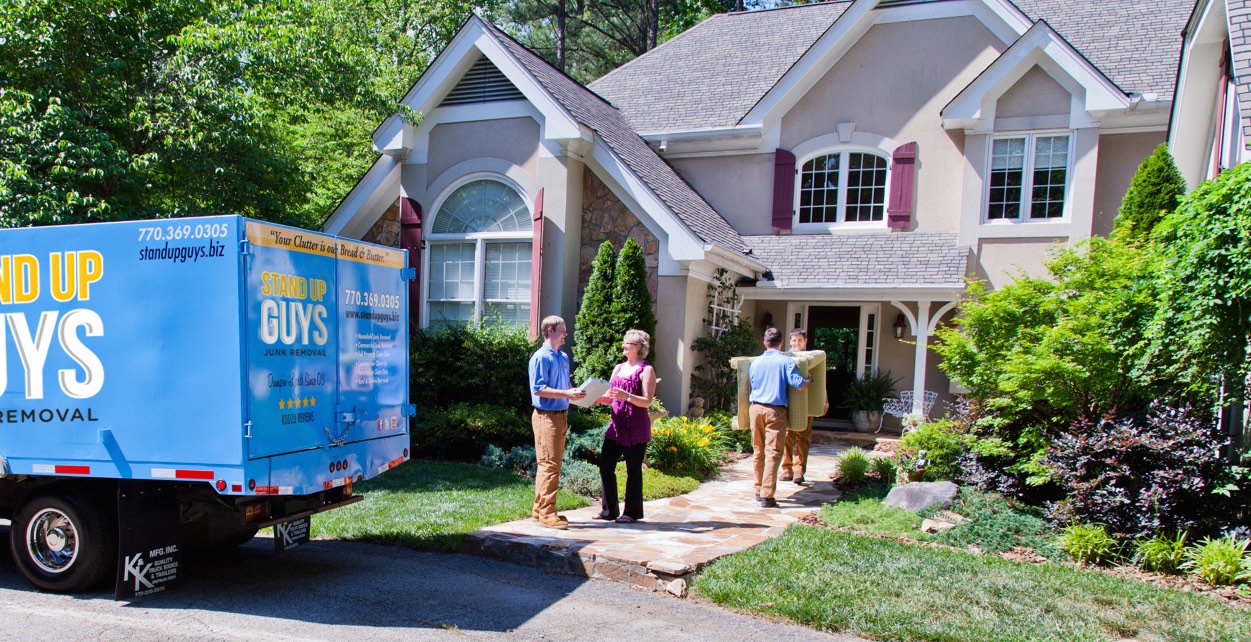 #1 Household Junk Removal Crew in America!
Getting rid of household junk and debris can be a serious pain. There are so many steps and processes you must go through to get rid of everything you want. This causes many average people out there unnecessary headaches and pain in the behinds. If this sounds like you or your personal experience with getting rid of household junk, don't fret any longer, for I have the perfect remedy to your household junk solution. The Stand Up Guys Junk Removal Crew!
The Stand Up Guys Junk Removal Crew can take care of any and everything you would need to have removed from your home. We remove couches, televisions, desks, any type of junk furniture, appliances and more. Don't worry about what you have, because we'll take care of it! You won't have to worry about a thing.
The Stand Up Guys offer appliance removal and household junk removal all across the US. This currently includes, the following states;  Florida, Georgia, North Carolina, Oregon, Tennessee, & Texas. We go wherever we're needed. We've earned the trust of the people and businesses of the cities we cover with incredible, top notch customer service, wonderful value, and with our efforts towards philanthropy and giving back to the communities in which we work!
Household Junk Removal Services The Stand Up Guys Offer
How It Works – Household Junk Removal
Getting rid of your household junk and debris once and for all is extremely simple when you hire The Stand Up Guys. It's as simple as pie. Once you have made the conscious decision that you're ready to rid yourself of your junk, simply pick up the phone and call The Stand Up Guys at 844-784-5865 (SUG-JUNK). Or you can even go online and book your appointment. Pick which ever is easiest for you.
At the time that you requested, two uniformed Stand Up Guys Professionals will arrive at your home ready to offer you a free, upfront estimate. The best part is, The Stand Up Guys that come to your house ALWAYS come fully prepared and ready to work as well. This way if you like the price, they'll go ahead and get to work and knock out what you need, right then and there.
All you have to do is point out what items you'd like to have removed, and The Stand Up Guys will take care of everything else! We will manage all the heavy lifting, loading, and hauling…and sweating. Just sit back, relax and watch as your junk disappears.