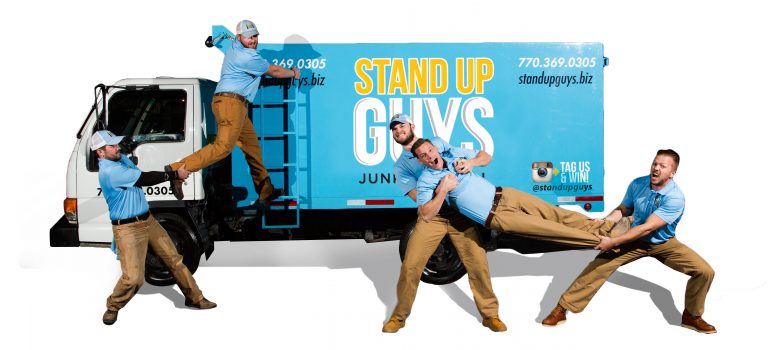 Eco-friendly Property Cleanout Services
Cleanouts are a big part of what the Stand Up Guys Junk Removal Crew offer our customers in your area. From cleaning out dusty old attics full of clutter to clearing out dark and dirty crawl spaces, the Stand Up Guys get the job done!
Cleaning out an entire space in your home or office can cause major headaches and is an all-around hassle. First, you have to work your fannie off to clear everything out, stack the trash and sweep the floors. Then, when it's all said and done, you are left with a big pile of junk, which will ultimately need to be removed!
Save your time and energy by calling the Stand Up Guys Junk Removal Crew from the start of your clean out project. We'll make your life and your clean out much easier and stress-free for you and your family/business. It's another perk of our customer service guarantee!
Don't waste anymore time. Give The Stand Up Guys a call today at 1-844-SUG-JUNK and get your free estimate for your property cleanout asap!
Property Cleanouts
Complete Property Junk Removal
The Stand Up Guys will personally visit your commercial or residential property & provide a FREE Estimate.
Once a price is agreed upon, we'll haul your junk and clean out the space then and there.When possible we always recycle & donate every possible item.
Related Services
Cleanout Services
What We Haul
Don't worry about lifting a finger! The Stand Up Guys Junk Removal Crew will take care of all the lifting, loading, cleaning and hauling. All we want our customers to do is sit back, relax and watch as the junk disappears.
Removal Process
How it Works
FILTERING – We filter through all the junk you have in order to find what can be donated & recycled.
LOADING – We do all the heavy lifting & loading of your items from wherever they are.
JUNK REMOVAL – We take all the junk with no recyclable/donation potential to the landfills.
ECO-DISPOSAL – We take all items that we've saved & drop them off at local recycling & donations centers in the community.