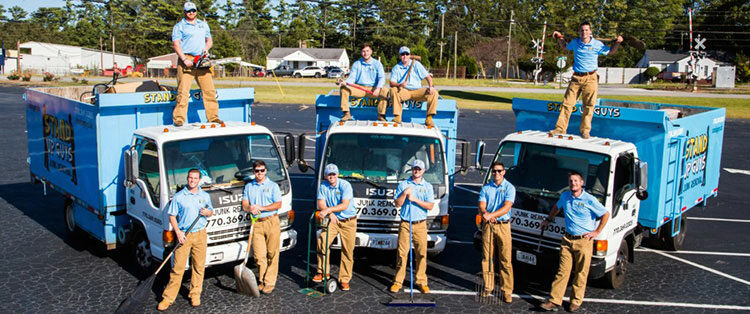 America's Most Respected Basement Cleaning Crew
Have you been putting off cleaning the junk, clutter and unwanted items out of your basement for years, fearing the headache that it would bring? Don't worry, you're not alone. There are many more out there just like you. Most people don't even know where to begin when it comes to cleaning the junk out of their basement. So, because of the unknown, they just leave the basement the way it is.
Whelp, I have great news! You don't have to feel this way any longer, and you definitely don't have to live with your junk filled basement either, because I have the answer to all your basement clutter woes. The Stand Up Guys Junk Removal Crew!
The Stand Up Guys are the number one option for basement cleaning all throughout your area! We're number one for many reasons. One being that we will pretty much take ANYTHING. Yep, anything. It doesn't matter what you have rotting away down there in your junk dungeon, we'll remove it, and we'll do it all with a smile on our face.
Whether it's old junk furniture, appliances that have been rotting away for years, boxes full of old Christmas ornaments, or tools from 50 years ago, The Stand Up Guys will remove it. We all have some old junk in the basement that we never want to see again. It's best to leave getting rid of it to the pros.
Cleanouts Stand Up Guys Junk Removal Offer
How It Works – Basement Cleaning

The Stand Up Guys Junk Removal Crew will manage all of your basement cleaning needs from beginning to end. This means, once you hire The Stand Up Guys, your job is complete. Just let us know what you want gone, and we'll take care of the rest. You won't have to get your hands dirty, or even lift a finger.
Hiring The Stand Up Guys to help your with your basement junk and clutter removal needs is simple as pie too. All you need to do is pick up the phone and give us a call at 1-844-SUG-JUNK and let us know what day and time works best for your schedule. At that time, we'll send out two uniformed Stand Up Guys Professionals to offer you a free estimate on everything. Best part is, we always come prepared and ready to work. This way if you love the price that is presented to you onsite, we'll go ahead and get started right then and there.