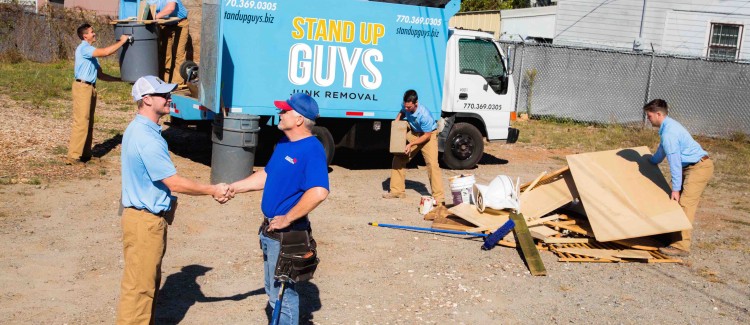 Everyone's Favorite Construction Site Clean Up Crew!
Whether you're a contractor with tons of different construction sites or remodeling projects all over, or a 'weekend warrior' who's renovating his bathroom, you will eventually have construction debris piling up. Doesn't matter if the job is big or small, there will always be debris. The question becomes, what do you do with said debris? How do you get rid of it? What's the best option?
The best option you have a contractor or homeowner for getting rid of your construction debris is simple. It's The Stand Up Guys Junk Removal Crew! The Stand Up Guys take care of everything, from beginning to end. This means we'll manage all the lifting, loading, hauling and disposal for you. All you have to do is focus on your project at hand, and we'll take care of the dirty work.
The Stand Up Guys Junk Removal Crew are priced to sell. We have extremely competitive prices, even with dumpsters, and we're the ones doing all the work. Dumpsters are great, but that's just extra work for you, since you have to fill it. You're better off using your energy to focus and finish your home project.
The Stand Up Guys Crew is wonderful for contractors too. Why? For one, our Stand Up Guys are ALWAYS uniformed, clean cut and professional on the job. This looks really good in front of your clients. The last thing you want is for your customers to think your hire rag-o-muffins to help with your projects. We make great impressions, it's part of what The Stand Up Guys are all about.
Just Some Of The Spaces Stand Up Guys Junk Removal Clean Out
How It Works – Construction Debris Removal
'How it works' is simple. Once you are ready to start your project, or once you have realized that you need to get rid of your construction debris, it's time to pick up the phone and give The Stand Up Guys Junk Removal Crew a call at 1-844-SUG-JUNK. Let us know what time works best for you and your schedule, and we'll be out at that time. If you like, you can make it even easier on yourself and book your appointment online.
At the time that YOU requested, we'll send out a Crew of Stand Up Guys to your property. They will then offer you a free estimate on removing everything you have. If you like the price, since the Crew always come prepared and ready to work, they'll go ahead and take care of everything right then and there. They'll have all that construction debris out of your hair in no time. Then you can get back to doing what you do best… Trying to remodel your kitchen.
Don't worry about where you are either, because The Stand Up Guys cover it all, we're everywhere you turn. We have branches in many different Metropolitan cities and cover all of Metro Atlanta, GA – Tampa Bay, FL – Nashville, TN – Raleigh-Durham, NC and Dallas, TX.