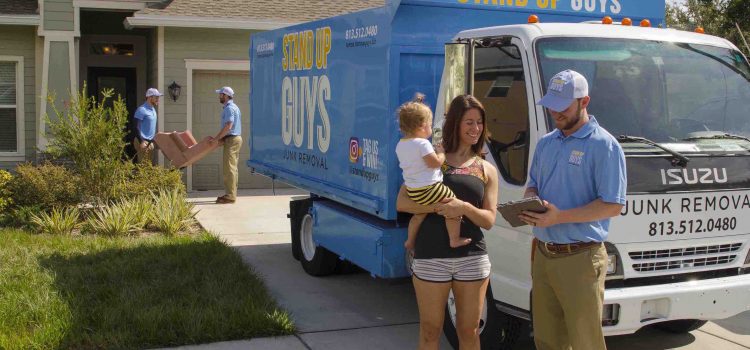 Cary's Most Beloved Junk Removal Crew
Are you tired of being sick and tired of the junk and clutter piling up in and/or around your home? Have you been contemplating clearing out the clutter for a while, but every time you even think of starting you get a headache just at the thought of what it will take to do alone? Don't sweat it any longer, for I have the answer to all your junk and clutter woes. The Stand Up Guys Junk Removal Crew.
It doesn't matter if you have junk furniture in the basement, cardboard boxes and appliances in the garage, construction debris from your recent remodel, or even yard debris in the back  yard. Whatever it is that you are looking to have removed, The Stand Up Guys Junk Removal Crew can take care of it. We're here to make your life easier.
The Stand Up Guys Junk Removal Crew have earned a stellar reputation over the years with the people and businesses of Cary, NC for many reasons. One being that our customer service is next to none. We ensure that 100% of our customers are more than just satisfied, we make sure they are WOWed by our service every time.
Services We Offer In Cary, NC



Cary is an extremely popular city, and it's not only a big city, it's the 7th largest in all of North Carolina! Cary is so big it actually goes into two separate counties, both Wake and Chatham Counties. Cary also has well over 150,000 people that call the great city home, and that number is rising quickly. To be exact, Cary was the 5th fastest growing municipality in the entire United States just a few years ago. Big things are happening in Cary, and people want to be here.

The city of Cary has a ton of history as well. Cary actually began in 1750 as a settlement called Bradford's Ordinary. About 150 years later, after the construction of the North Carolina Railroad, they renamed the city to Cary, which it still has today. Later down the road, Cary became one of the first cities in the country to adopt the Planned Unit Development strategy. This helped growth and prosperity of the city for years to come.
There's a lot of rich history in Cary, just like the rest of North Carolina. One of the number one reasons people move to the area though, is because it's known for being one of the best places to raise a family. The schools are fantastic, the crime rate is some of the lowest in the Southeast and all in all, Cary is just a perfect family town.