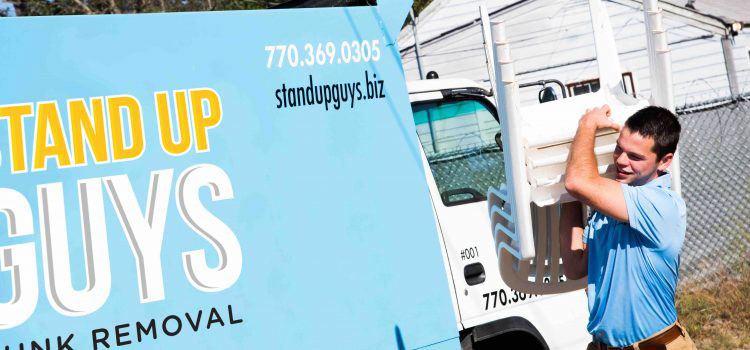 The Most Cherished Shed Removal Company
Sheds are wonderful for any home. They're terrific for storage, it's nice to keep things in the shed that you don't want to keep in the house. All around, sheds are simply great to have. Until they get old, worn and turn into eye sores that is. At that point you might start to despise your old shed. If that's the case then it's probably time to move on to a newer one, or no shed at all. Either way, that means it's time to have the old shed removed.
How do you remove and old shed, you ask? Simple, you call The Stand Up Guys Junk Removal Crew. The Stand Up Guys are the number one choice for shed demo and removal in your town. The last thing you want to do is deal with trying to take down and remove a shed yourself. It's a massive headache you don't want to take on. So leave all that up to The Stand Up Guys!
The Stand Up Guys will assist you with your shed removal from beginning to end. We don't require you to do a thing! We can sort through what's left in shed and keep what you like, and throw out the rest. Then we can even knock the old shed down. Once it's demolished, we'll remove and haul away all that's leftover. We make the entire process as easy as pie for all our customers.
Other Services The Stand Up Guys Offer
How It Works – Shed Removal
Once you have finally made the decision to have your old shed removed and you want to hire The Stand Up Guys Junk Removal Crew, the hard part is over. It's all down hill from here. First just pick up the phone and give us a call at 1-844-SUG-JUNK (784-5865) and let us know what day and time works best for your schedule. You can even book online if that is easier for you. Either way works.
At the time you requested, two Stand Up Guys Professionals will arrive at your home to take a look at your old shed and offer you a free, up-front estimate. We always come prepared and ready to work, with an empty truck and all the necessary tools. This way if you love the price that is presented to you, we can go ahead and take care of everything right then and there for you. Once the price is set, all you need to do is sit back, relax and watch as your old shed disappears.