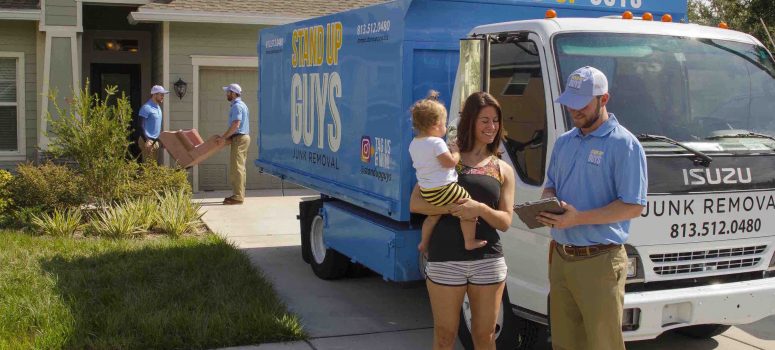 Your Favorite Household Junk Hauling Company!
Are you finally ready to do what you've been wanting, waiting and dying to do? Get rid of that old household junk cluttering up your home? If so, you're in luck, my friend. You're in luck because I have all the answers to your junk problems. The answer is The Stand Up Guys Junk Removal Crew! The Stand Up Guys will take care of any and all of your household junk removal needs. It's that simple. From beginning to end, The Stand Up Guys do all the loading, lifting, and disposing. We do it all.
This means you won't have to worry about touching a thing or even lifting a finger! We take care of everything! The Stand Up Guys are top notch, our crew members are clean cut, uniformed and respectful to you & your home.
The Stand Up Guys are the number one household junk hauling company everywhere for a reason. The main reason being that we're unmatched in customer service, customer care and value. The Stand Up Guys have a set pricing structure in place for your household junk removal to perfectly fit your needs. The Stand Up Guys also make sure that all of our customers and clients are 100% satisfied 100% of the time.
Household Junk Removal Services The Stand Up Guys Offer
More About Household Junk Removal
Are you looking to get rid of some of that old junk from your home? Are you sick of staring at all that junk in the basement? The crew at Stand Up Guys Junk Removal can help. We take any and all types of junk from your household. If you have anything you want to get rid of, we are the only call you need to make..
We always come out and offer free, up-front prices for all our customers. When the price is right, we go right ahead and take care of everything then and there.
The Stand Up Guys Junk Removal Crew also recycle and donate every possible item we can. There are many items in your home that you might want to throw away that we could easily find another home for. Whether it be recycling, or donating to several different non-profit organizations in your community, The Stand Up Guys will find a home for your unwanted belongings.