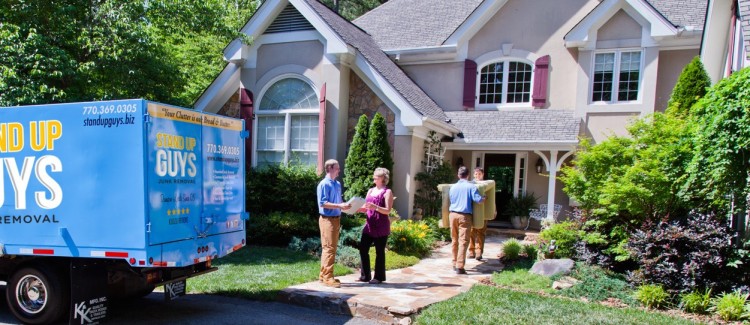 Frisco's Most Adored Junk Removal Crew
Do live or work in Frisco, TX? Do you have junk, debris or clutter piling up in your home? Does the thought of even attempting to remove the clutter give you anxiety because of the work involved? Don't worry, my friends, you are not alone in this struggle. There are many others out there just like you. Even right here in Frisco. The best part is, I'm not just bringing up a problem with no solution. I actually have a remedy to you junk issues. Yup, you guessed it. The Stand Up Guys Junk Removal Crew!
The Stand Up Guys are the number one junk removal crew in all of Frisco and the perfect solution to your junk and clutter issues. The Stand Up Guys do it all for our Frisco customers. It doesn't matter what you need to get rid of, we can help. We remove everything from old furniture and appliances to yard debris or waste. Simply point out what you want gone, and watch as we take care of everything and your junk disappears. The Stand Up Guys will take care of all the hard lifting, loading, hauling and disposal. We are here for you!
The Stand Up Guys have earned the title of Frisco's Favorite Junk Removal Company over the years for many reasons. One of the biggest reasons is due to our tireless efforts towards amazing customer service and customer satisfaction in the Frisco area. We ensure that all of our customers are not only satisfied with our service, but WOW'd by it.
Services We Offer In Frisco
More About Frisco Junk Removal
Frisco is one of both Collin and Denton Counties most renowned cities. The two counties basically fight over the awesome town. Frisco has been a booming city over the last 10-20 years, and now has more than 155,000 residents. Frisco was even named the fastest growing city in America in 2009! When you think of how many cities their are, and how many are on the rise, that is an amazing stat. The word has really gotten out about how wonderful Frisco is, and the numbers are there to back it up.
Frisco is well-known around the Dallas Metro Area as a great place to raise a family and a perfect city to get a great education for your children. Frisco's school districts are some of the best in the entire state of Texas. There is plenty to choose from in Frisco as well, with upwards of 8 High Schools and 16 Middle Schools in the area. Along with the great schools, the crime is low and the local economy is one of the best in the country. Frisco is the epitome of the American Dream!