Arlington's Most Beloved Junk Removal Crew
Living with unwanted junk and clutter can be difficult, even stress-full. Anything unnecessary in your life will add unneeded, and unwanted stress. Junk is no exception to this rule. Don't be a slave to your junk and clutter any longer, my friends. Take the smart, easy route and higher a legit junk removal company to come in and clean out the clutter and relieve you of that unwanted stress. If you live in the Arlington area you're in luck because I have the PERFECT junk removal service for you. Yep! You guessed it. The Stand Up Guys Junk Removal Crew.
The Stand Up Guys are considered by many (if not all) to be the number one junk removal and hauling service in all of Arlington, Tx. We've earned this stellar reputation and rapport with the residents and businesses of Arlington over the years with our constant efforts towards amazing customer service. We not only make sure 100% of our customers are satisfied, we ensure that they are WOW'd by our awesome service. This is a practice that we prefect on a daily basis. We are always looking to improve, even on what's our best asset; customer service.
The Stand Up Guys Junk Removal Service in Arlington is simple. When you have made the decision that you want to get rid of your unwanted junk or debris, simply pick up the phone and give us a call. After that, your work is done. All you have to do is sit back, relax and watch as we do all the work and  your junk disappears. It doesn't the size of the job either, we'll manage big and small. From a household worth of junk furniture, to a small pile of debris in your back yard, The Stand Up Guys assist our Arlington, TX customers with everything.
Services We Offer Arlington, TX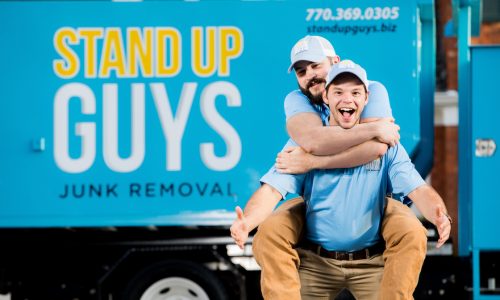 Arlington is a beautiful city located right smack dab in the middle of Dallas and Fort Worth, less than 20 miles from either downtown. Arlington is more than just a sister city to Dallas and Fort Worth though, it does very well standing by itself. It's one of Tarrant County's finest cities, and has well over 375,000 residents that call the awesome city home.
Arlington is the home of many great industries and sports franchises. The Texas Rangers and the Dallas Cowboys and their amazing AT&T Stadium call Arlington home. The Arlington Assembly plant (which is used by the massive General Motors) and Six Flags Over Texas also call Arlington home. Little cool fact: Six Flags Over Texas is the very first Six Flags ever.
Arlington is much more than just attractions and sports teams though. The city alone has over 130,000 homes, 90,000 families and tons of different, great schools. This city is an amazing place to come visit, but it's also an awesome place to live and call home. There are a ton of perks to living in Arlington, but none better than the fact that you have access to the greatest junk removal crew on the face of the earth by living in this great city. The Stand Up Guys are here ready and willing to help all Arlington's with their junk and debris removal needs!