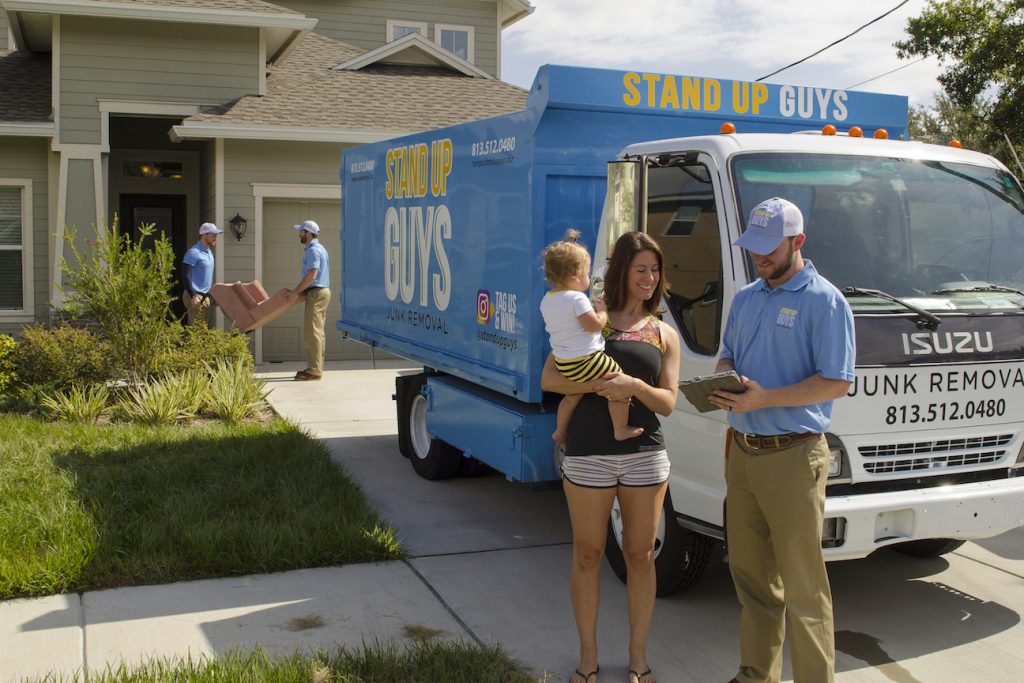 Plano's Favorite Junk Removal Crew
Plano is an absolute wonderful city, with residents perks that would make your head spin. There are so many amazing things about Plano that it would take days to list them all out. One of the perks to living in Plano though, that is at the top of the list, is the fact that you have access to the greatest junk removal crew on the map, and Plano's favorite. Yup, you guessed it. The Stand Up Guys Junk Removal Crew!
The Stand Up Guys Junk Removal Crew have been considered Plano's favorite junk removal crew for quite some time. How did we earn this title with the residents and businesses of Plano? That's a loaded question, since there are so many reasons, but let me give you a few. First and foremost, The Stand Up Guys have become Plano's favorite junk hauling crew over the years because of our customer service and overall customer care. At Stand Up Guys we ensure that all of our customers receive the best possible service every time. This means we go above and beyond to offer our customers a WOW type experience. This is not a common thing in our industry and one of the big reasons that we 'Stand' tall above our competition.
Another reason why The Stand Up Guys have become Plano's favorite junk removal crew and go to company for all hauling and cleanout needs, is because of what we do with your items once we remove them. At Stand Up Guys we believe that most items can find a second home and don't need to simply be trashed. In Plano we donate and recycle more than 60% of the items that we remove. We do any and everything we can to ensure that your old items can find a new, warm home. This helps not overfill landfills and helps around your community. It's a win win!
Services We Offer In Plano, TX

More About Plano Junk Removal

Plano is one of the largest suburbs of Metro Dallas, one of the most populated cities in all of Texas (9th to be exact) and one of Collin Counties finest! Plano proudly supports over 260,000 residents and countless business. Plano is not only a great city itself, its a quick boot scoot and boogie from downtown Dallas. Only 20 minutes to be exact. The location is priceless, and that's not even the best part about Plano.
Plano has an amazing local economy and is home to TONS of corporate headquarters like Cinemark Theaters, Dr Pepper Snapple Group, Pizza Hut, Rent-A-Center and much much more. These corporate HQ's are huge for the economy of Plano, offering countless jobs and pumping more money into the city. People come from far and wide to be part of this awesome city.
There is a lot of history in Plano as well. The city dates back to it's earliest settlers in 1840. The city grew to about 1,300 people by the turn of the century. The next 60 years were slow going though, as the population only went up to about 3,000 by 1960. Plano would soon see some massive increases in jobs, population and even lower taxes after World War II. The city ballooned to over 17,000 by 1970 and over the next 10 years exploded to 72,000 people by 1980. This was population growth like few cities have ever seen. The city of Plano has been on the rise ever since!