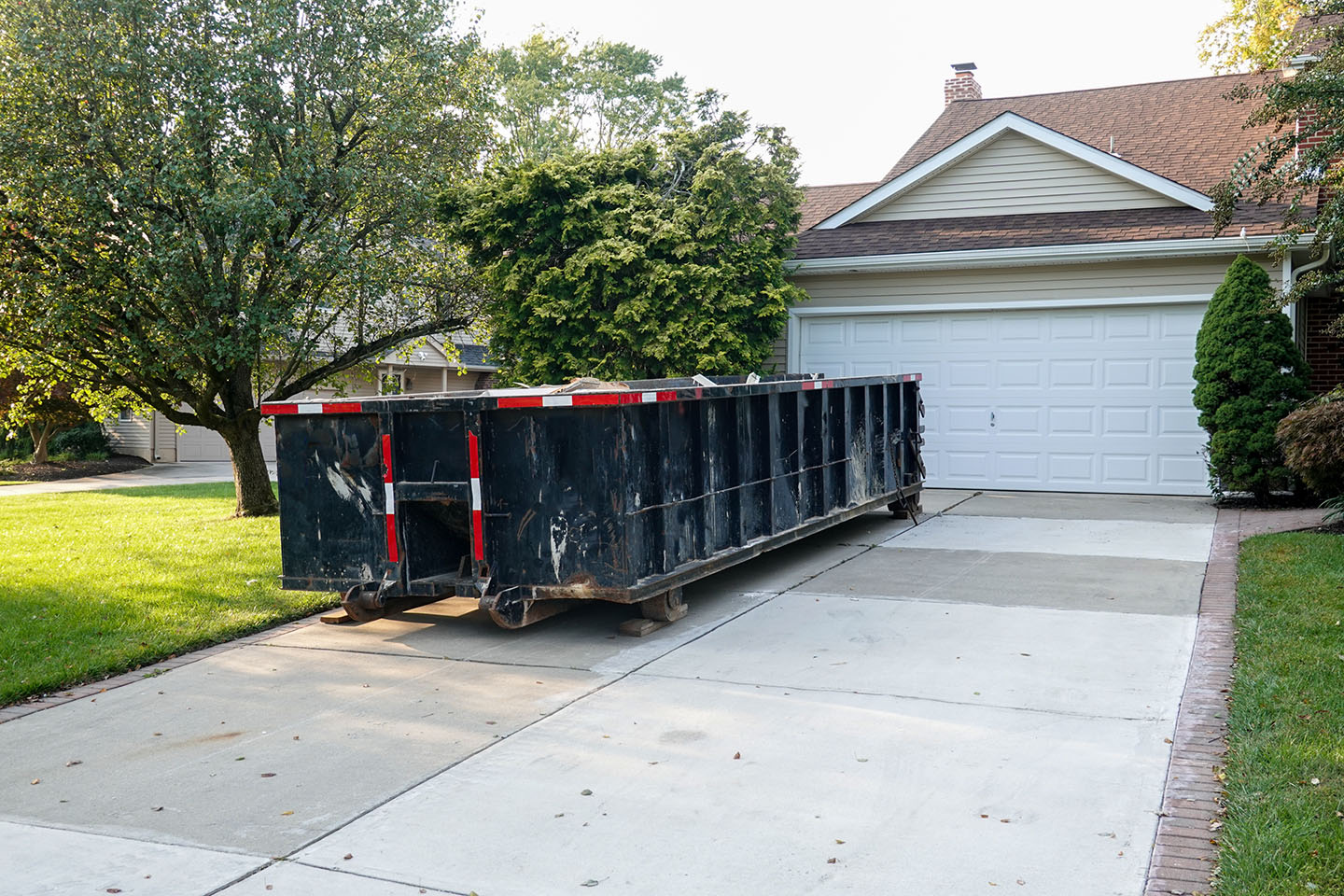 Do you have a property cleanout, kitchen demolition, or basement decluttering project to tackle? These projects, although necessary, can leave you with piles of trash, furniture, and, well, junk. Sometimes a few trips to the landfill can get all of this off your hands, but other times, it's too much and too messy to load into your car to haul it away.
That's where dumpster rentals come in handy! But how do you even begin to start finding the right company, renting a dumpster, and getting it delivered to you?
Dumpster rentals can be overwhelming if you're a first-timer, but it doesn't have to be complicated!
Stand Up Guys Junk Removal are dumpster experts, so you're in good hands. We'll teach you everything you need to know about dumpster rental so you can get your junk off your hands and out of your house!
When Do You Need a Dumpster Rental?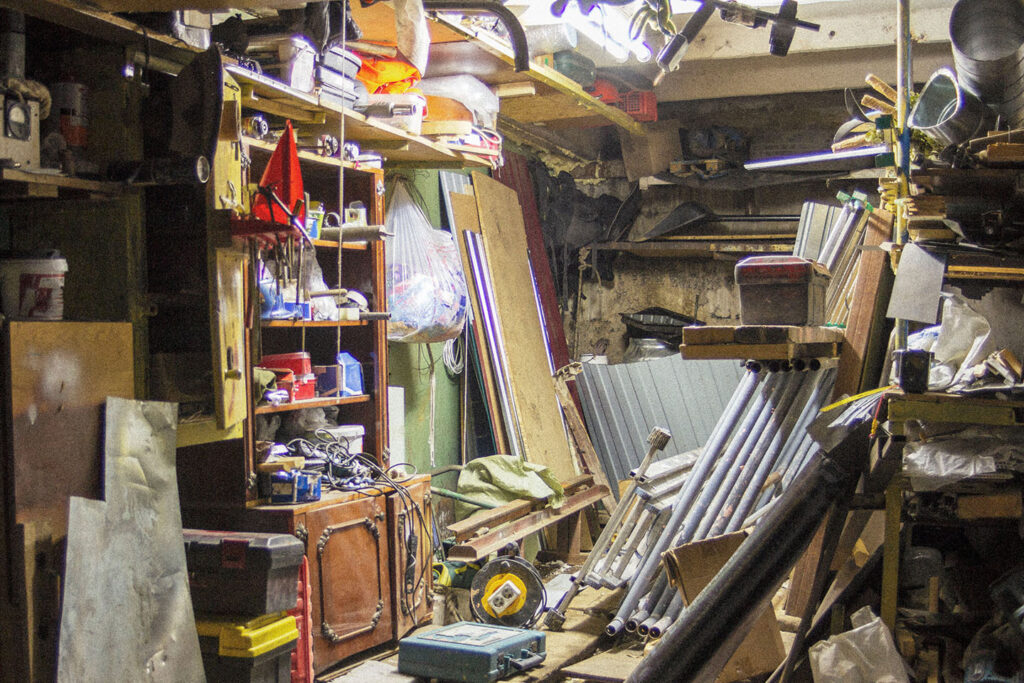 People need dumpster rentals for a variety of different reasons.
Instead of paying hefty garbage disposal fees or making trips back and forth from a landfill, a dumpster rental company could help save you time and effort!
Dumpster Rental for At-Home Decluttering
Sometimes spring cleaning or home decluttering means a few hours of organizing what you still use and trashing what you don't. Other times, the project is more involved, and you're left with piles of junk that you want to get rid of.
A residential dumpster rental is a perfect solution to help you say goodbye to your unwanted home decor, furniture, and trash without figuring out another solution to haul away more oversized items.
Dumpster Rental for Garage Clean Out
We all know someone who can't use their garage because it is too full of old car parts, boxes of broken holiday decorations, and a lot of who knows what else. Maybe we face this problem ourselves.
Garage cleanouts can be daunting, and often they require many items to be thrown out. Your trashcan and recycling bin can only hold so much, so a rented dumpster could be the perfect solution to help you start parking your car in the garage again!
Dumpster Rental for Moving
Oh, the joys of moving! While moving often means packing your things to make memories somewhere else, you must face the clutter hiding in attics, closets, and cabinets for years.
Don't let this stress you out when you already have so much going on! Roll-off dumpsters can be delivered straight to your home and provide a fast and easy way to get rid of everything you don't want to come with you to your new place.
Dumpster Rental for Demolition Debris
You know that demo day gets messy if you've ever done a remodeling project or watched a renovation show on HGTV. When you tear down kitchen cabinets, break down a wall, or gut old carpeting, a lot has to be thrown out before you can start the next phase of your project!
Demolition debris is often way too much to be thrown out with other trash. Dumpster rental companies provide an excellent solution for getting rid of this unwanted junk and getting on your way to a beautiful, renovated space.
How to Rent the Right Dumpster
After you decide that you need to rent a dumpster, you need to select the one that is best suited for your needs.
There are different kinds of dumpsters to consider, and you must pick the right dumpster size and type to get the job done right!
Types of Dumpsters
Picking the dumpster that you need is the first step to helping you get rid of all your unwanted stuff!
Consider the primary use of the dumpster, what size dumpster you need, and where you will put it before deciding which type is right for you.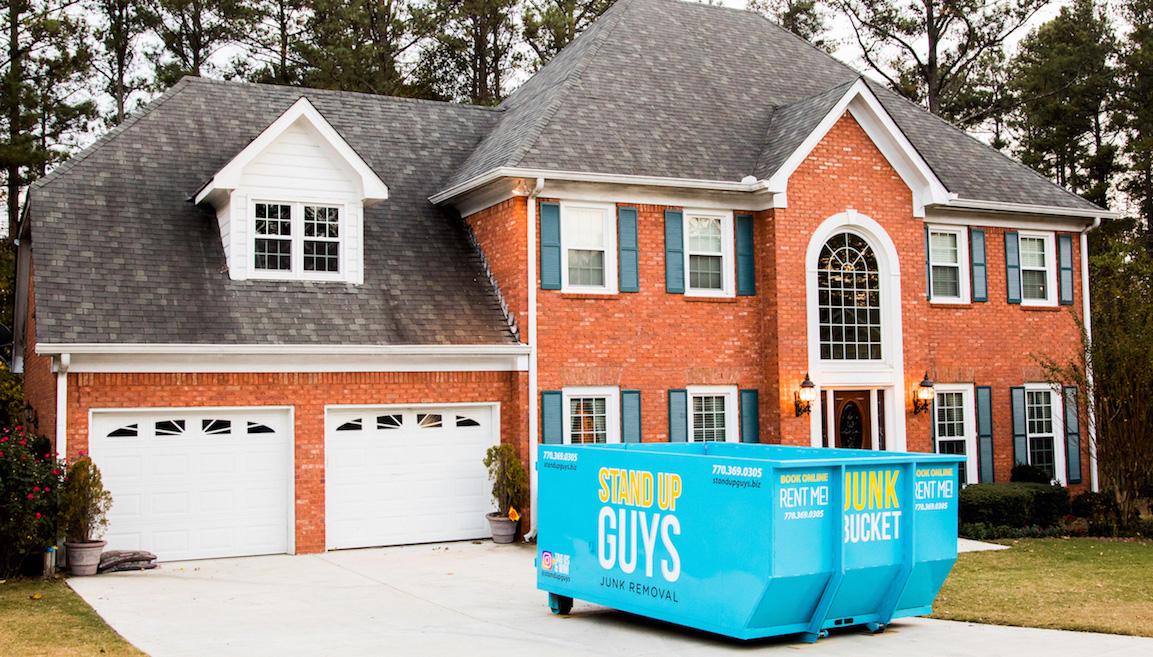 Home Dumpster Rental
Most home projects or demolition services that need the help of a dumpster rental will require a roll-off dumpster.
These dumpsters are rolled off the back of a truck and delivered straight to your property or job site. The same truck will load it back up and take it away when you're done!
Roll-off dumpsters have swinging doors that open wide, allowing the renter to fill them with large items like couches, cabinets, and anything else you need with ease!
Plus, the wooden planks on the bottom of the dumpster's feet protect the area it is placed in, so you don't need to worry about damage to the delivery site.
Pick this type of dumpster for:
home cleanouts
garage cleanouts
attic cleanouts
roofing projects
renovation and remodeling projects
yard waste removal
moving
Commercial Dumpsters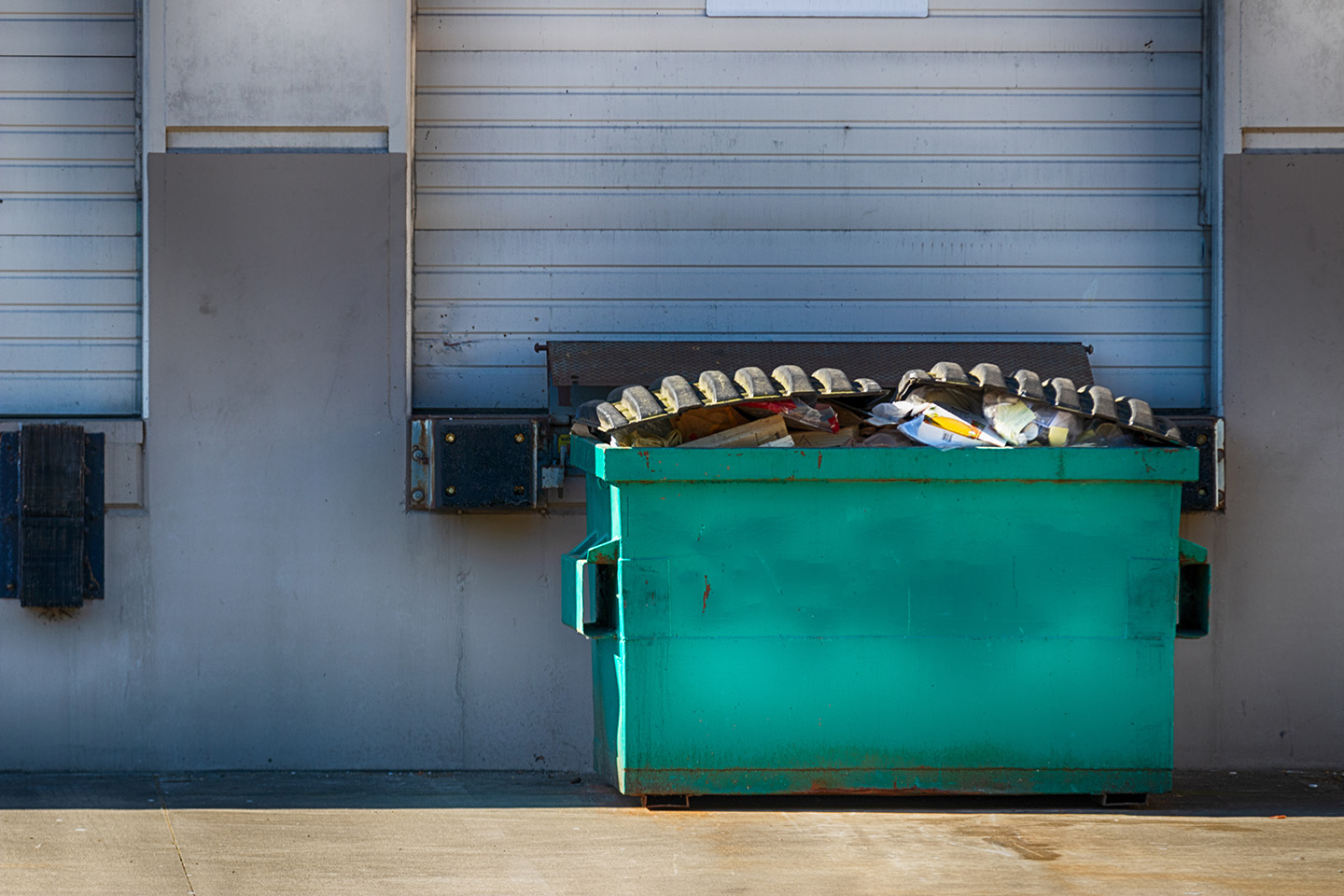 Roll-off dumpsters aren't the perfect solution for every need. Sometimes, commercial dumpsters are the way to go if you need a dumpster for an extended time.
Commercial dumpsters are delivered to your desired site and emptied regularly. Your local waste management company will come to empty it, so there is enough space to throw out more junk.
These dumpsters are smaller than a home dumpster rental and have a lid on top to keep out precipitation, limit smells, and block animals.
Pick this type of dumpster for:
construction sites
corporate offices
small businesses
schools
Dumpster Size Options
Picking the right dumpster size is an integral part of the dumpster rental process. By making sure you choose the correct size, you will save money by only paying for what you need while still having the dumpster you need!
It can be hard to estimate the amount of space your junk will take up inside a dumpster. Other times, you don't even know the scope of your project to estimate how much junk you might have.
We've got you covered to help you envision what size dumpster is the perfect fit for your needs!
10 Yard Dumpster Rental
Use a 10-yard dumpster for a garage cleanout, a basement cleanout, or other home cleanout projects. You may also want to pick this type when you have a small renovation project on your hands!
15-20 Yard Dumpster Rental
Use a 15 to 20-yard dumpster rentals when you have a little bit of a more significant project on your hands. If your home cleanout projects include a lot of furniture and trash removal, sizing up could be your best bet! Carpet removal projects may also require this dumpster size.
A 400-square-foot deck removal would require a dumpster of this size, as would the removal of 300 square feet of roof shingles.
30-40 Yard Dumpster Rental
If either of the smaller dumpsters doesn't suit your needs, you can rent a 30 to 40-yard dumpster. If you're cleaning out an office building, removing windows, replacing old siding, or have a large amount of trash, these containers are a good fit for you!
Now that you've decided that you need a dumpster and have an idea of what size can help you get rid of your junk, it's time to start the dumpster rental process.
Don't get overwhelmed- this process will have you well on your way to a decluttered space. Follow these steps to make your dumpster rental process as easy as possible!
Step 1: Pick Dumpster Rental Company
The first step of the dumpster rental process is picking the right dumpster rental company. You want to be sure you take time to evaluate which company is right for you, as they will be your point of contact throughout the entire process.
There are many different dumpster rental companies to choose from, so how can you determine which one best fits you? Here are a few things to consider and discuss with your options.
Pricing is a crucial factor when determining whom to rent a dumpster from. Make sure you find out how much it costs to rent a dumpster for the time you plan to use it. Compare the pricing of different companies to help you decide which one to use.
Your dumpster rental's terms and conditions are another essential factor in your decision-making process. Some dumpster rental companies have overcharges and hidden fees that you wouldn't know without reading the contract. Spend time reading your contract, so nothing is a surprise!
You can also call and talk with different companies to discuss your dumpster rental options, pricing, and questions. This can help you get a feel for whether or not you'd like to work with them.
Here are some questions you can ask before picking a dumpster rental company:
How much weight can I fill the dumpster with?

What am I allowed and not allowed to put in the dumpster?

What will the dumpster rental company do to prepare for delivery?

How far in advance do I need to schedule delivery and pick up?
Asking these questions can help you feel confident that you picked the right dumpster rental company and alleviate any stress you may have about the process! It's always best to be informed before making a decision.
Step 2: Schedule Delivery
Once you've decided on a dumpster rental company that is right for your needs, you can schedule the delivery of your dumpster rental.
This step should be short and sweet. Some companies allow you to book online, while others require you to call and schedule the delivery.
During the booking process, you should tell them your address and the exact location where you'd like the dumpster delivered during the booking process. Make sure you think this through so you don't block any doors, garages, or other needed areas during the dumpster rental period.
Depending on the company you choose, you may have to schedule your dumpster delivery a few weeks in advance. If you need a dumpster soon, keep this in mind, so you aren't left waiting.
Step 3: Load Dumpster Rental
This is the fun part! You can fill the dumpster with unwanted stuff when delivered to your home or business!
Broken furniture, be gone! Stained carpet, see you never! Gross trash, goodbye!
Cleaning your space is a freeing feeling, but don't get too carried away! Before you start getting rid of your junk, check the company's website to ensure you only get rid of things that are allowed. Some items are allowed but require an extra fee, so check this.
As long as you rent the dumpster, you can continue to declutter your space and get rid of everything you don't want anymore! Keep in mind the dumpster rental period, so you aren't left rushing to get rid of your junk at the last second.
Step 4: Schedule Pickup
When you clean out your garage, declutter your home, and throw out your demo debris, it's time to schedule your dumpster pickup!
Just as you did when you booked your dumpster rental, contact the company to let them know that you're ready for them to remove the dumpster. You will schedule a time that works for you and the company, and they'll load the dumpster back on their truck.
In four easy steps, your junk will be out of sight and mind just like that!
Junk Bucket Dumpster Rental
By Stand Up Guys Junk Removal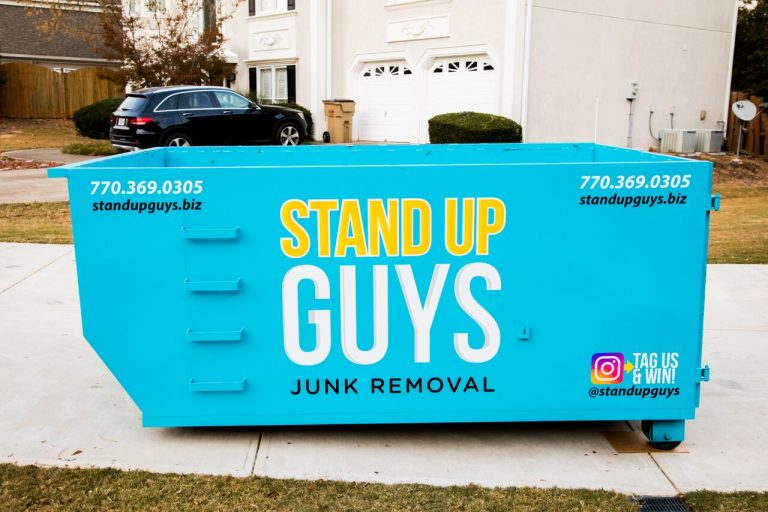 Stand Up Guys Junk Removal are expert on all things junk. We've been in the business of junk removal services and dumpster rentals for years, helping our clients de-stress and declutter their lives.
Our dumpster rentals, fondly known as the Junk Bucket, can be delivered to your home or business to help you get rid of all that junk you don't need sitting around and taking up space.
While other dumpsters can be an eyesore, we designed our junk buckets to be ascetically pleasing and practical for your needs.
Stand Up Guys are committed to excellent customer service, upfront pricing, and on-time pickup and delivery. It's why our customers say we live up to our name!
If you're on the hunt for fair dumpster rental prices and a company that works for you, look no further than Stand Up Guys Junk Removal and book your dumpster rental today!