Old furniture can quickly fill up your home, apartment, garage, or basement. The more unused furniture you have sitting around, the more your space can feel cluttered with items you don't want but don't know how to remove. Old furniture disposal can be a pain. It's difficult to carry, difficult to transport, and difficult to know how where to get rid of it.
While all this furniture may have served a purpose at one time or another, what do you do when you're ready to get rid of it?
The Inside Scoop on Furniture Removals
Thankfully, Stand Up Guys Junk Removal are junk removal experts, and we know all the ins and outs of furniture removal to make the process easier for you! You have more options than sending your old furniture to the local landfill.
Here's the inside scoop on how to get rid of old furniture and where you can take it!
Donate Your Old Furniture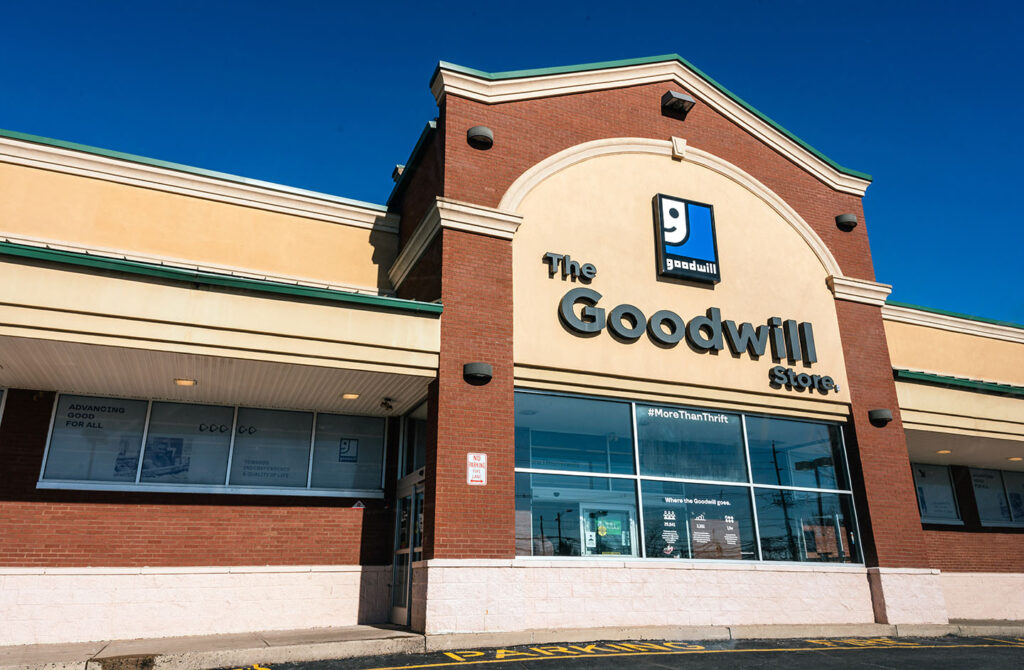 While your primary goal of removing your old furniture is probably to declutter your home, you can help someone else in the process! Instead of simply throwing away your gently used furniture, donating it is a great solution to free up some space in your home and allow someone else to enjoy it in theirs!
Remember that even if you don't use it anymore, need it anymore, or if it doesn't match your style anymore that doesn't mean it won't be the perfect addition for someone else! Plus, donated furniture is often free or discounted at your local donation center so that people can save money!
Furniture donation is much more sustainable than throwing it out and adding to the ever-growing landfills. Pick an option that's eco-friendly and helps the community!
What Types of Furniture can be Donated?
Not all furniture can and should be donated. However, most donation centers and charitable organizations will provide lists of what they are accepting at that time. These lists change periodically depending on needs and inventory. Check the lists or call to ensure your donation is needed.
Here are some common types of furniture that you can donate:
Old sofa
Old office furniture
Old chair
Old home decor
Old wooden furniture
Old carpets
Old coffee tables and side tables
Old light fixtures
Old mattresses
How to Decide if You Should Donate Your Furniture
Before donating your furniture, it's essential to assess its condition and decide if it's worth donating. You only want to donate furniture that someone else could use, not just because you don't like it anymore.
Ask yourself some of these questions to help you decide. Depending on your response, you may want to pick a different furniture removal option, but not always. Use good judgment!
Furniture Donation Questions
Is it broken?
Is it clean?
Does it smell?
Is it usable?
Where to Donate Your Furniture
Many places accept furniture donations in your community. You can decide which one you'd like to donate your furniture to depending on what they need, what they take, and what they support!
Places to Donate Your Furniture
Churches
Community centers
Sell Your Used Furniture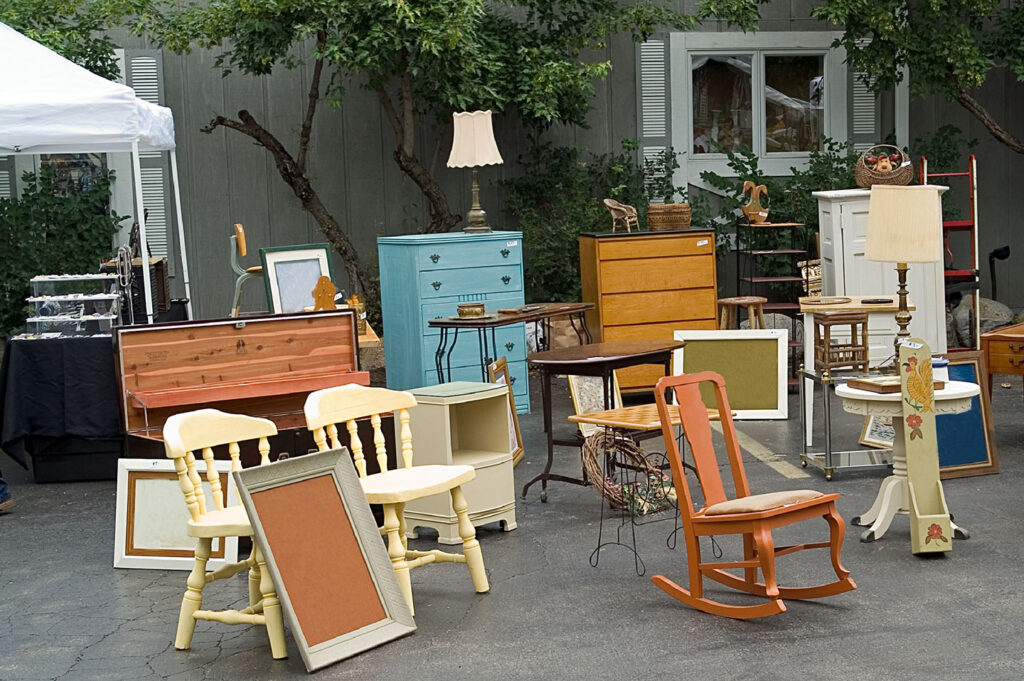 Another great option to get rid of old furniture is to consider selling it! Why not make extra money and get something you no longer need off your hands? Even if you don't use the furniture anymore, someone else might love to buy it for a good deal and add it to their home!
Many different platforms and creative ideas make selling furniture easier than you may think! Whether you host a garage sale or post it on social media, buyers will typically come to you to pay and pick up the furniture, so you don't need to worry about transportation.
Ways to Sell Your Furniture
While traditional methods like yard sales or selling your furniture to a consignment shop are still common, many people have decided to start selling their furniture on social media platforms. Social selling platforms allow sellers to negotiate prices, filter by item, and offer their furniture to a larger group of potential buyers.
You can make money by selling your furniture in one of these ways.
Host a Garage Sale
Post it on Craigslist
Post it on Facebook Marketplace
Post it to Your Social Media Platforms
Furniture Consignment Shops
Selling to Used Furniture Stores
At Home Furniture Disposal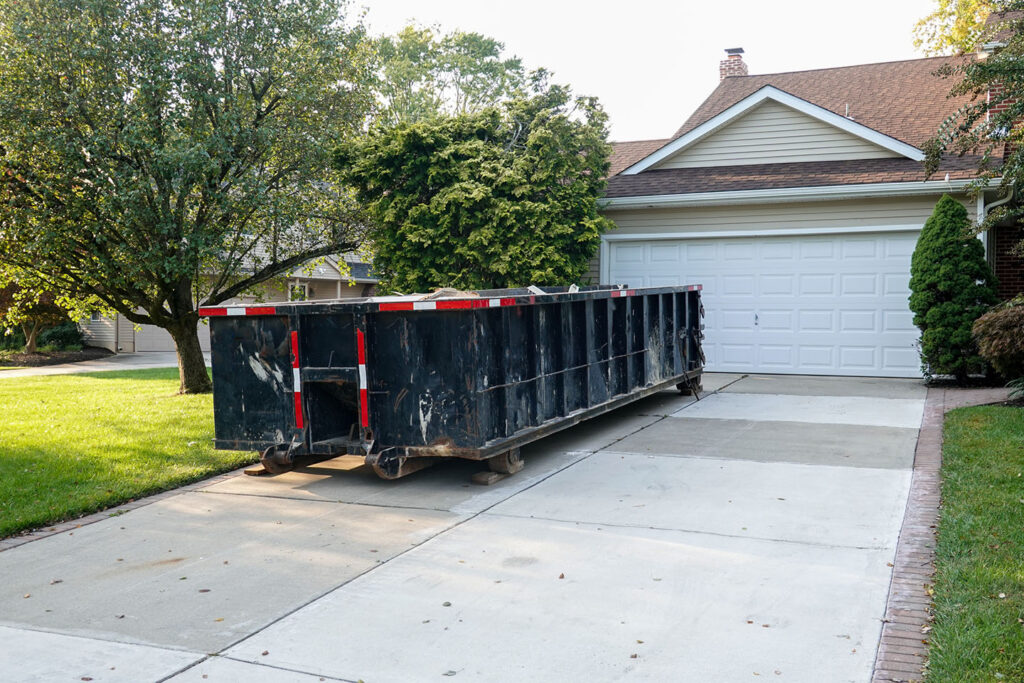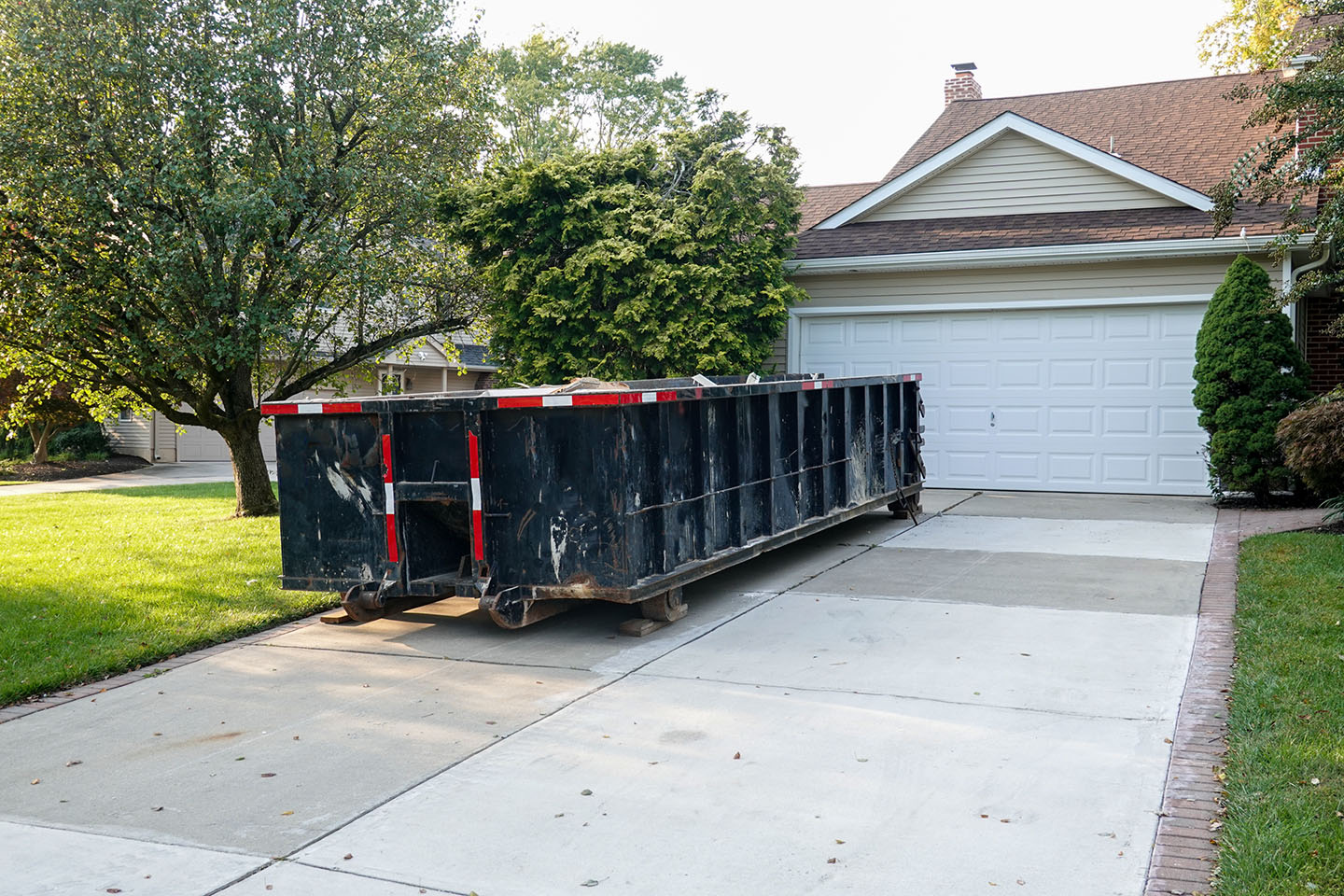 One of the most challenging aspects of furniture removal is figuring out how to transport it in your vehicle. As much as we wish it were possible, fitting a whole sectional in a sedan just won't happen.
Not to worry! You can rent a dumpster, get it delivered to your home, and fill it with all of your unwanted furniture. When you've removed everything you want, the junk removal company will remove the dumpster and take all that bulky furniture away with them.
Dumpster rental can be for more than just old furniture! While you're at it, you can get rid of other household junk, too!
Dumpster Rental Process
Step 1: Book an appointment
Step 2: Dumpster rental delivery
Step 3: Fill up the dumpster with your old furniture
Step 4: Schedule dumpster rental pick up
Hire a Junk Removal Company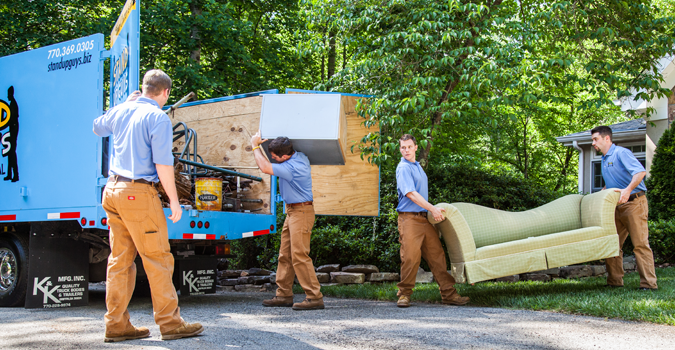 Do you have a large amount of old furniture that you want to get rid of but feel stuck because you can't sell or move it yourself? Hiring a junk removal service could be the best option for larger projects to save time and help you get the job done quickly!
Junk removal services take the pressure off you to figure out how to remove furniture items from your home, transport them, and where to take them. While it comes at a cost, a junk removal service might be the best option to declutter your space!
Pros of Hiring a Junk Removal Service
They do all the heavy lifting for you
They take all of the furniture pieces you want to get rid of
They donate or recycle the items
They haul away the furniture in their trucks
Book an appointment for a junk removal service, and a crew will remove your furniture in no time!
Throw Out Your Unwanted Furniture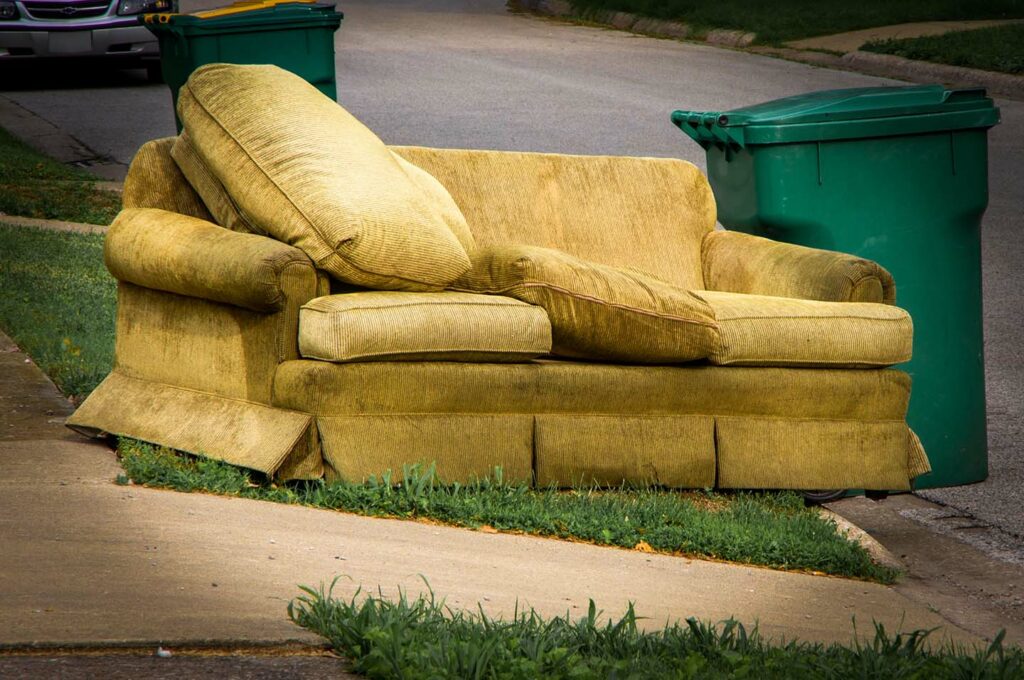 If push comes to shove, you still have the option of throwing out your unwanted furniture, but it should be your last resort. There are many other sustainable and environmentally friendly ways to get old furniture off your hands, so make sure you don't jump to this solution first!
While donating, rehoming, or recycling your old furniture is preferable, it's not always the right call for all the pieces you are removing from your home. If your old sofa, household items, or office furniture is not usable anymore, the best solution is to throw it out
Think about it, if you have a piece of upholstered furniture that's ripped, stained, and falling apart, it probably can't be put to better use by someone else. Such an item would be a good idea to send to the local landfill.
Furniture Disposal Rules
Throwing out furniture isn't as easy as putting your old mattresses out with the weekly trash. Your local waste management company probably has special regulations that dictate what items can be taken away in the garbage truck and what needs to be taken to a disposal location.
In most cases, waste management can remove bulky items for a fee on top of your regular trash removal bill. The cost depends on a few factors: if you need to get rid of multiple items, what size the items are, and your location. Some of these bulk items include:
Mattresses and Box Springs
Bed Frames
Cabinets
Sofa and Furniture Items
Other items too large to fit into your regular service container
Make sure that large trash pick-up services are available in your area and how to best schedule the service based on location. Sometimes, you can book online, while other states require a phone call or live chat.
How to Remove Heavy Furniture?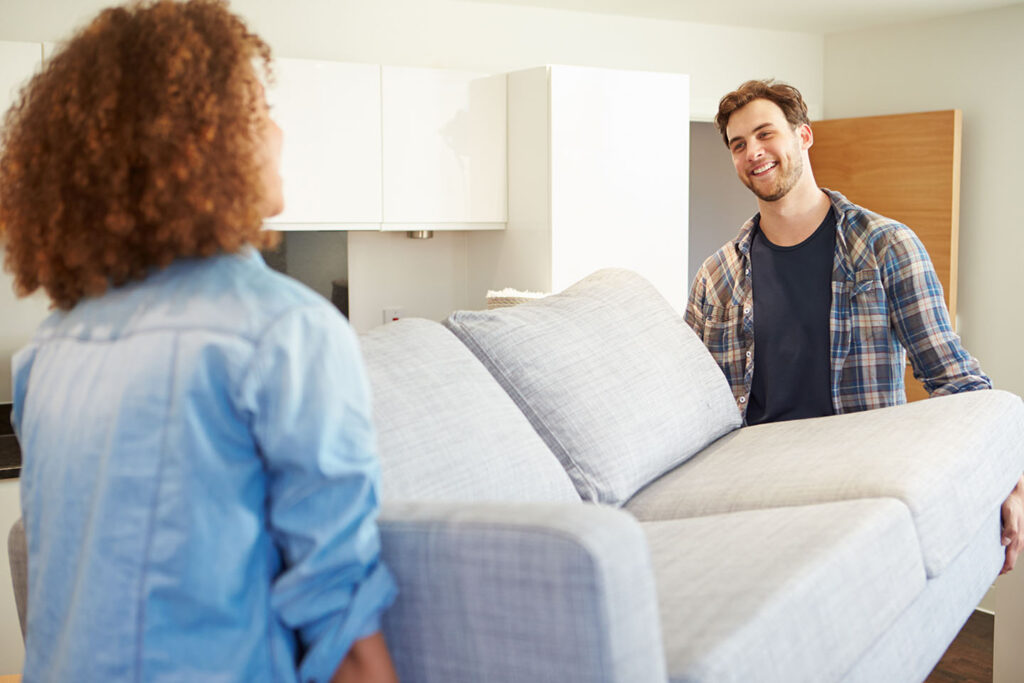 Let's face it- most furniture can be pretty heavy. Depending on your living situation, what kind of car you drive, and who is available to help you, getting rid of your furniture can feel almost impossible.
How can you get rid of furniture if you don't have a car? What if you live on the top floor of an apartment? What if nobody can help you carry that old couch you have sitting around?
These valid questions make getting rid of old furniture more difficult. However, some creative ways make furniture removal more accessible depending on your situation.
Make the furniture removal process more accessible by:
Breaking down furniture
Disassembling furniture
Reaching out to friends or family to help you move it
Messaging local Facebook groups to ask for help
Asking to borrow a larger vehicle to fit the old furniture
Hire a furniture removal service
Get Rid of Your Unwanted Furniture with Stand Up Guys Junk Removal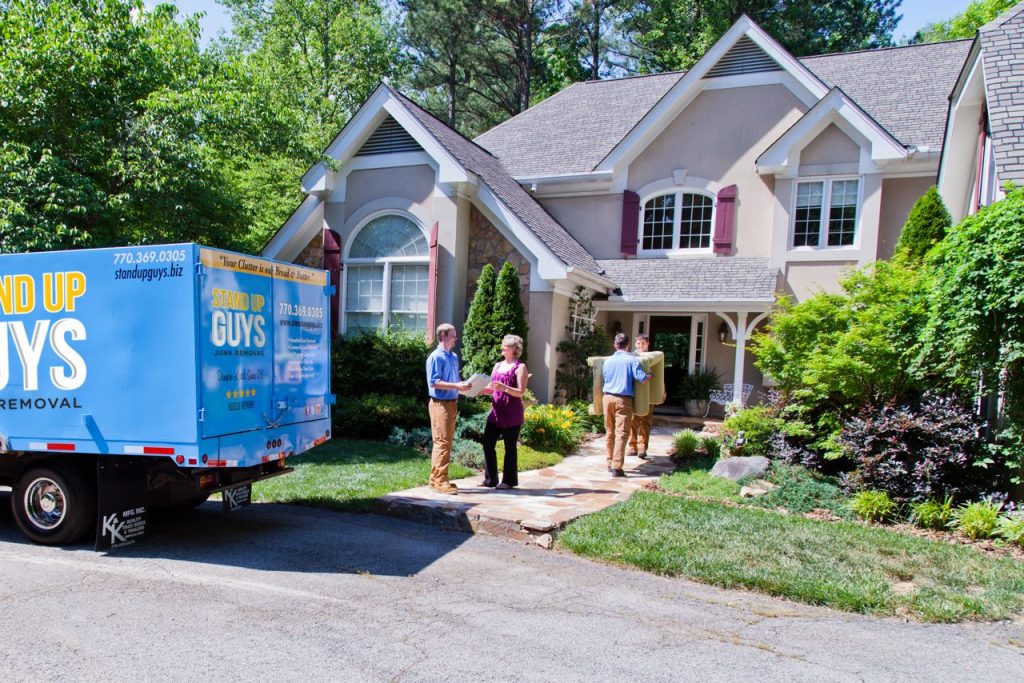 If you have old furniture on your hands that you're ready to part waysF with, Stand Up Guys Junk Removal will quickly get rid of it! Say goodbye to the struggle of getting rid of old furniture yourself and trust the expertise of junk removal experts.
Customers love Stand Up Guys Junk Removal's furniture removal services! We make it easy to finish your junk removal project by doing all the heavy lifting for you. Tell us what you want to be removed, and we'll haul it away with fantastic customer service!
Why Choose Stand Up Guys Junk Removal?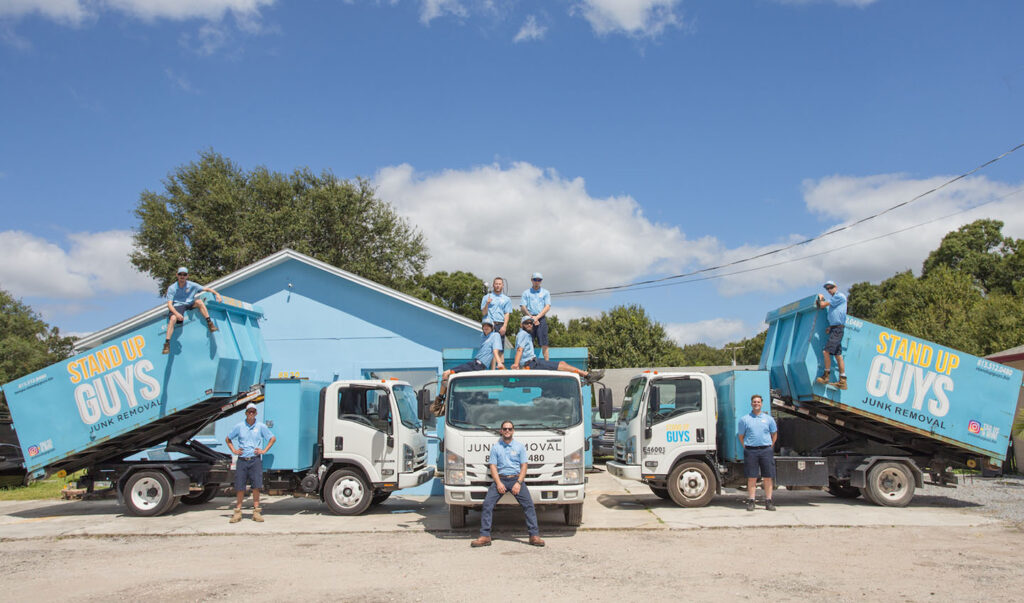 Donate or recycle furniture

You don't need to worry about where your junk is going with Stand Up Guys Junk Removal. We are committed to donating or recycling as much of your old furniture as possible to ensure it gets put to good use without sending it to the nearest landfill.

Fair Pricing

Stand Up Guys Junk Removal believes in giving our customers fair pricing for junk removal services. While most junk removal services want to make a pretty penny off your needs, we only charge you for how much space your furniture takes up in our truck. We provide upfront, free estimates before we get to work, take everything we say we'll take, and leave no junk behind.

Great Customer Service

They don't just call us stand-up guys for nothing. We live up to our name by providing expert customer service for the entirety of your furniture removal process. You can trust that we'll arrive within the appointment window, remove your old furniture quickly, and only take what you tell us. Plus, every member of our junk removal crew goes through a background check, so you can feel good about bringing us into your home.

Easy Booking Process

You can call or book your furniture removal service online. We'll help you find the location closest to you. Then, we'll gather some information about what furniture you want to be removed and book your appointment. It's that simple to say goodbye to all of the large furniture that has cluttered your home for too long!
Stand Up Guys Junk Removal is ready to work to remove all of the old furniture and help your space feel less cluttered! Call or book online today!