The Worlds Favorite Oven Removal Crew!
When it is time for you to let go of that old out dated oven, your first call should be to the Stand Up Guys Junk Removal Crew. We can handle all of your oven removal needs, and any other kitchen or home appliance removal.
If you are thinking about getting a new oven, but don't feel like taking the old one out your self, we can help with that as well. If you call us the day that the new oven is to arrive at your house, we can show up before the new one gets there, rip out the old one, and haul it off for you. This way you don't have to worry about the hassle of taking time out of your busy schedule to disassemble the old oven, then drag it out of the kitchen. Also we do all the loading and lifting for you as well.
Also when you hire Stand Up Guys Junk Removal to handle your oven removal needs, you can be assured that your old oven will find a good home. If the old oven is still in working condition, we can donate it to someone who could put it to use. Or if it is broken, we can recycle the necessary parts, to help out the environment. Also, don't be scared to ask for some help bringing in the new oven. Stand Up Guys don't just hold them selves to "Junk Removal," we will help you with anything we can.
The Stand Up Guys remove ovens and other home appliances all over the map. We have uniformed professionals waiting for you at all of our locations in Atlanta, GA | Tampa, FL | Raleigh, NC | Nashville, TN | Portland, OR. 
Other Items The Stand Up Guys Junk Removal Crew Haul Away!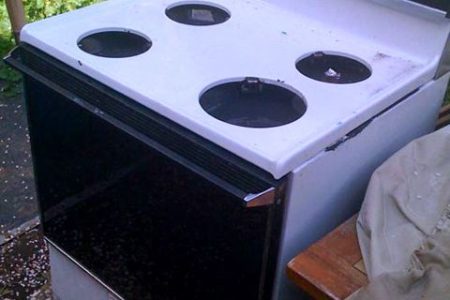 Dryer Removal
Entertainment Systems