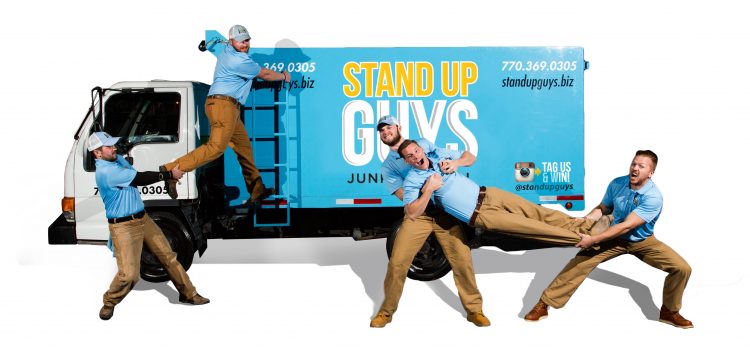 Everyone's Favorite Shed Removal Removal Crew
Are you sick and tired of staring at that old, raggedy, shed in the back yard? Are you finally ready to just do what it takes to have it gone and out of your life for good? Don't worry, you're not the only one! That's why The Stand Up Guys Junk Removal Crew is here! We can manage of all your shed removal and demolition needs.
The Stand Up Guys will tear down and demo your shed, and remove the junk, all in one shot! We'll even remove any items that are inside the shed. If you want to keep some of those items, we'll set them aside for you and dispose of the rest. The Stand Up Guys Crew will take down and dispose of any kind of old shed. Whether it be wood, sheet metal, or plastic, we will take it for you.
Sheds that are not used and/or neglected can become homes to critters, insects and other animals that you don't want any part of. So make the right choice and get rid of that old shed sooner than later. Don't forget, when you use the Stand Up Guys for your shed removal that means your job is over and you wont have to lift a finger.
Other Demo Services The Stand Up Guys Offer
Hiring The Stand Up Guys to assist you with your shed removal needs is simple. All you need to do is start by picking up the phone and giving us a call at 1-844-SUG-JUNK and letting us know what day and time works best for your schedule. If you like, you can also go through our website and book the entire job online. Whatever works best for you.
At the time of your request, two handsome, uniformed Stand Up Guys Professionals will arrive at your home ready and willing to off you a free estimate on removing the old shed. The Stand Up Guys always come prepared and ready to work as well, with all the necessary tools and an empty truck. This way, if you love the price, we can go ahead and take down and remove your shed right then and there! Simple as pie!