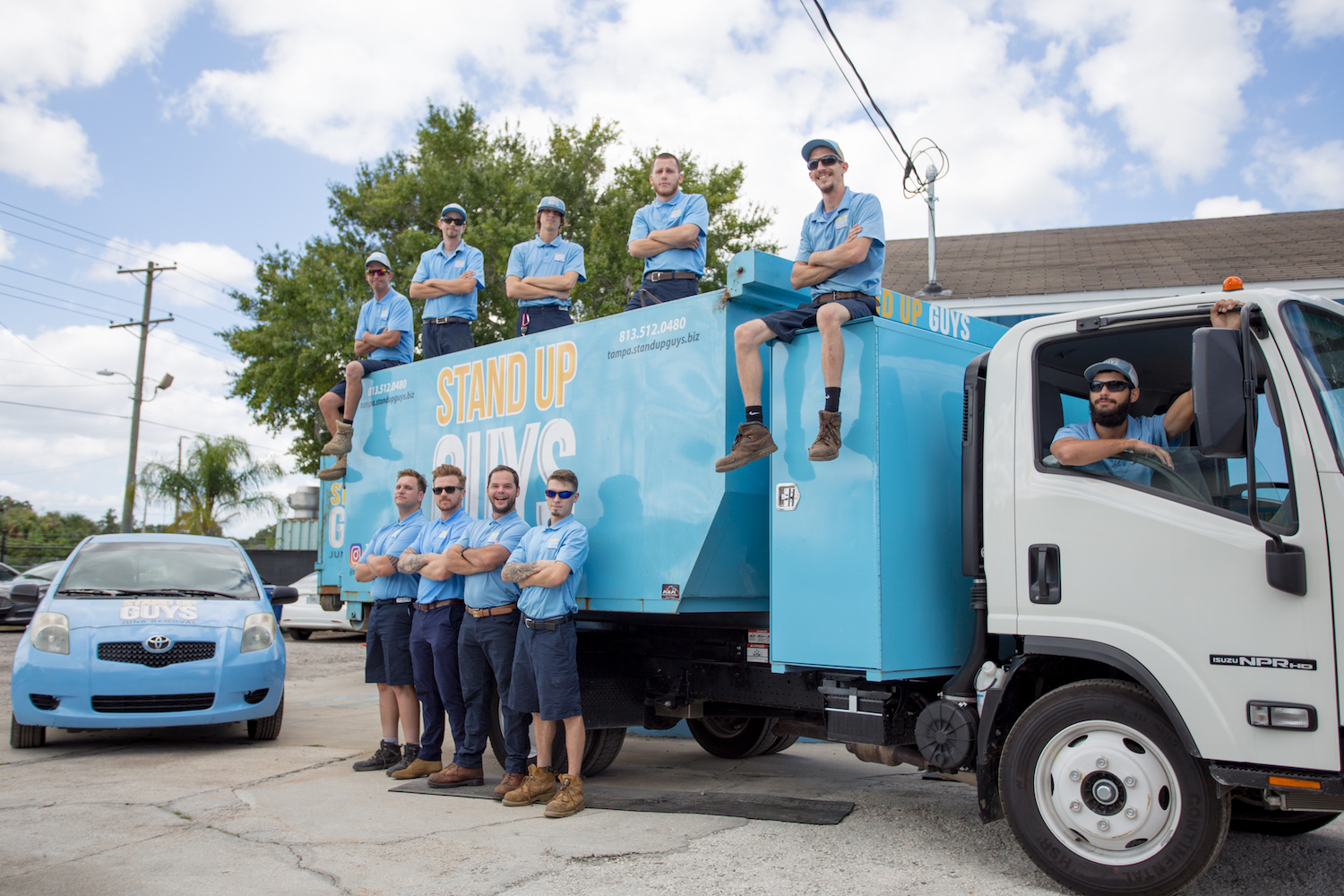 Hutto, Tx's Most Trusted Junk Removal Company – Stand Up Guys
Are you located in the city of Hutto, and have you been bothered about junk pick-up or debris removal? Is it your home or your place of work? The Stand Up Guys got you covered. We are your most trusted junk removal crew in Hutto. It is totally fine to have junk and clutter all around our home or workplace.
In most cases, the junk and clutter start piling up when we abandon furniture or gadgets and devices we no longer find a use for. The junk starts piling up, from one to two and more, till we are no longer comfortable with them sitting in our stores, basement, or garages. No matter how big or small the junk is, we can offer you our best service.
Who should you call when you need help with lifting, carrying, hauling, loading, and cleaning? The Stand Up Guys. Why? Because we do it like no other. Immediately you call us to the final stage of executing your junk pick-up or debris removal requirement. We give you only the best service. Our staff on the desk are well trained to give you the attendance and reception you deserve, and our crew onsite are well experienced and perform efficiently in order to give you satisfaction. What of our consultants? They are the best. Anywhere you are in Hutto, no matter what the service you need is, the Stand Up Guys are your go-to guys.
From hot tub removal and old furniture removal to anything you can think of, the Stand Up Guys are more than capable of handling it. Is it storage unit cleanout you need, or do you want help with shed removal? What about a full property cleanout and yard debris removal? No other crew will do it like the Stand Up Guys. Our junk pick-up and debris removal service is very flexible, and as such, you can customize to your preference and still get the best service. All you have to do is call us, tell us what you need, and you get it at an affordable rate. Yes, our services are very affordable, and we even give free consultations and estimates.
Stand Up Guys Junk Removal Services We Offer In Hutto
More About Hutto, TX Junk Removal
The history of Williamson County has it that Hutto, TX is the home to the first railroad in the county. There is more history behind the beautiful city of Hutto. The town of Hutto was established in 1876 when the international great northern railroad traveled to land owned by a local rancher in the person of James Emory Hutto. Now, it is obvious where the town got its name from. The following year, a post office, lumber industry, and a general store were already established.
The development of this town continued swiftly until the 1960s, when there was a drop in its population. Two decades after, Hutto, TX gradually revived, and now it has a population of almost 17,000 residents as of 2010. Hutto is the Hippo Capital of Texas and home to many businesses and institutions and the Stand Up Guys.