Junk & Debris Removal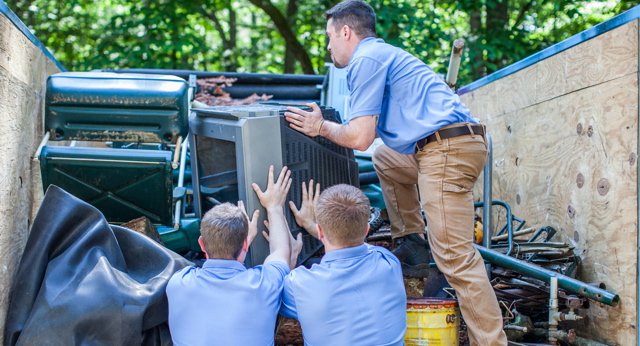 'Junk' can mean a lot of different things to people. Some people it means yard debris, some it means old furniture and some it can be just clearing out a whole garage. For our most recent customer, Brad, his meaning of junk was A LOT of stuff.
Brad was starting to unravel the beast that is spring cleaning and found out he is going to have much more than he initially thought. He first went through every room in his Atlanta home and found junk everywhere! From the attic to the basement and all in between. Since he was going to clean  out his house, he thought he would clean up his yard as well. Now he thought the hard part was going to find someone to do all this, but all it took was one phone call to Stand Up Guys and the rest is history!
Brad called in and explained he was in the process of a deep spring cleaning and yard debris removal and asked if that is something we do, without hesitation our hungry office manager Ryan replied, "Look no further, your search is done." Ryan went on to explain how we charge and what routes we would take to tackle this project and let Brad know that we will give him a free estimate. He also gave Brad some peace of mind by letting him know that if he was concerned about who was coming to his house, he could look at our employees profiles on our website and know exactly who was coming to his home. Brad was very encouraged by that and scheduled for the project to begin on Saturday.
Brad's Junk Removal In Atlanta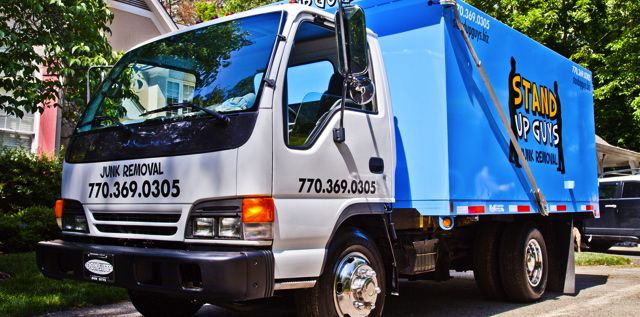 Ryan blocked out a whole day for this job and sent two crews out there to get this thing done as quick as possible. Two of our big dog district managers had to tackle this. Ross came with is other half, Corey, and Clark brought his sidekick David. With these teams combined, this project was in trouble! Ross and Corey were able to start on the yard debris while Clark and David were beginning to clean out the inside.
Since two trucks were at this property with two crews, we were able to complete this giant mixture of junk in one day. Clark was able to find good donations that we were able to give to Furniture Bank of Metro Atlanta and Ross cleared out the big debris piles in the yard that were housing some unwanted rodents.
Brad's home was not only lighter, but safer. Getting rid of the debris piles cleared out a lot of pests and bugs. Especially in the Spring and Summer times, debris piles can house many rodents and even become a fire hazard. Brad had no idea about that and was very thankful we got rid of it before anything happened. The inside was gutted of old furniture and belongings that had gathered for over 25 years. But, his old sofas and belongings made someone else very happy.
Many people do not realize that you can get rid of yard debris and household junk at the same time. Stand Up Guys separates the yard waste and household items so we can dispose of them properly by taking the yard debris to the vegetation waste. If you are beginning your Spring cleaning, call us today for a free estimate and we will perform the work right then and there. Let us separate your donations and junk, and let us do your Spring cleaning for you!