Stand Up Guys Junk Removal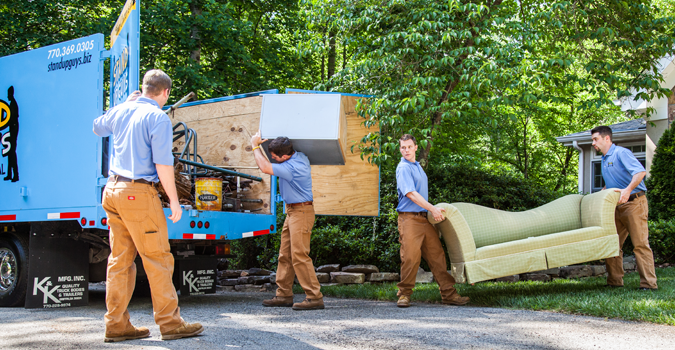 Yes! We work Saturdays! We know how busy your schedule can be during a normal work week and want our customers to know that we can help you on Saturdays. That is probably why Saturday is our busiest day of the week, just because people do not have time in between their work schedule.
It's always smart to plan ahead for any Saturday junk pick up. The sooner we know, the sooner we can get out there. Sometimes we can even do same day. We have been doing this for almost eight years now and we know the value of an off day and love to provide that for our customers. Many people in Metro Atlanta do not realize we do Saturday pick ups and we want to reach them!
Sofas, mattresses, sheds, yard debris, play sets, garage clean outs, attic clean outs, crawl space clean outs, construction debris, you name it, we take it! We take just about anything you can throw at us and we always try to find a home for what we get by donating to Furniture Bank of Metro Atlanta. We're not just your typical junk removal company, we love what we do and take pride in helping out our community in any way we can.
Just last week we had a customer call us last Saturday morning, bright and early, and needed a whole apartment's worth of furniture removed that day. At the time we could not guarantee him anything, but all our drivers were contacted and one was going to be in his part of NE Atlanta and we were able to squeeze him in. This wasn't just a sofa and chair, this was everything from bookshelves to futons and everything in between. He was moving into his sisters place to help take care of her and he wanted to get rid of everything basically. We came out that day, gave him the free estimate and in no time we completed the job before the sun went down.  Half of the furniture was in decent shape and you better believe we donated all that we could.
Everyone loves the fact that we donate and recycle what we can. Then there are some that dont believe us and think we use that as just an advertisement…if you dont think we do, we will send you the donation receipt in the mail the next week! We mean what we say and stand by our name. Call us today and see for yourself that we are Stand Up Guys!