Shopping Center Junk Clean Up and Maintenance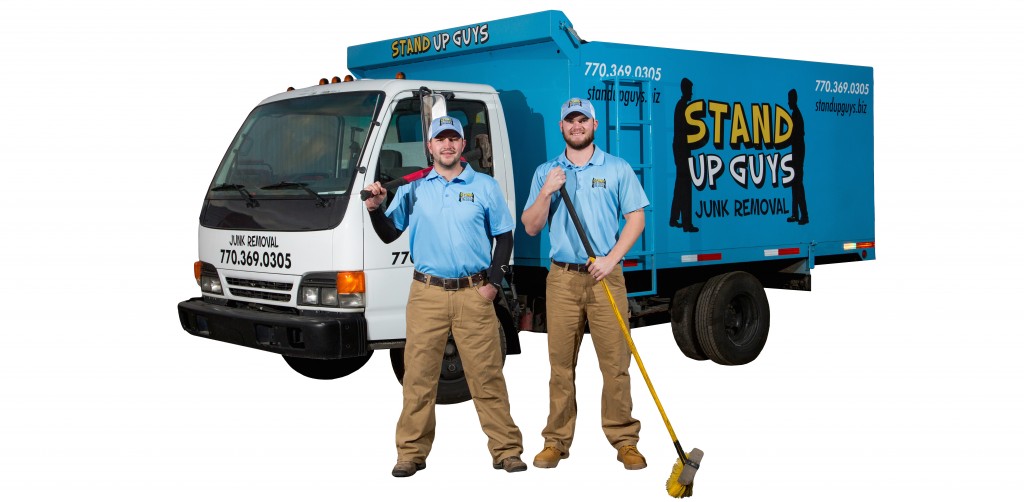 Do you manage a shopping center or property that continually junk dumped on it? From bricks and concrete to old furniture and garbage bags, The Stand Up Guys Junk Removal Crew in Metro Atlanta can take care of everything!
With the shopping centers we deal with now, we set up monthly or quarterly appointments to come maintain the property.  Our Uniformed Stand Up Guys Professionals walk through the woods to pick up random trash and gather anything that is in front of the stores as well. There are emergency situations too where there will be an overflow at the dumpster or someone has dumped a bunch of junk out behind the building where we will be out there same day or next day.
The Stand Up Guys are a full service junk removal company, licensed and insured. We pride ourselves on our customer service. We will not leave until you are satisfied. If you cannot be there, we can take pictures and send them to you just to let you know everything has been taken care of and you can approve it. Stand Up Guys Junk Removal has been in business since 2008 and know the most efficient ways to get the job done. We will do anything to give you the best value.
Shopping centers can be tricky sometimes. The property manager could go take a look at the property and notice three sofas behind the building and schedule us, but when we get out there, four more sofas have been dropped off and then he gets the bill and its twice as much as anticipated. That's why we take pictures if you need us to and we will communicate with you to make sure you approve of everything.
Benefits
Having a trashy shopping center not only looks bad, but can attract other people to dump as well. If people see a pile of junk behind a random building, it could give them ideas. Keeping the building clean attracts good clientele and helps the businesses there do well too.
Cluttered junk can also attract small rodents and pests. You definitely do not want to be inviting a raccoon to live on your property with thousands of people going in and out all day. Let Stand Up Guys handle all of your hauling needs and call today for a free quote 770-369-0305.