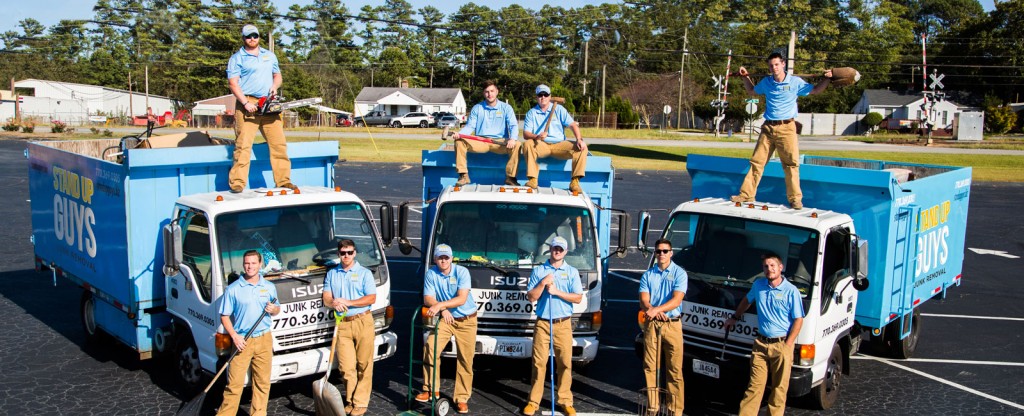 Nashville's Favorite Junk Removal Crew – Stand Up Guys
The Stand Up Guys Junk Removal Crew proudly serve all of Nashville Tennessee. We offer our amazing junk removal, hauling and clean out services to all the residents and businesses of Nashville and all the surrounding cities and counties.
If you live in the Nashville Area, and are in need of a junk removal or hauling service, look no further than The Stand Up Guys. The Stand Up Guys are not only Nashville's Favorite Junk Removal Crew, we're also the number one. We're the number one junk removal service in all of Nashville for a few reasons. One, our customer service is top notch and second to none. Two, when you hire The Stand Up Guys your work is done. We take care of EVERYTHING so that our customers don't have to lift a finger. Three, we're the best looking junk removal crew anywhere, cant beat that!
Over time The Stand Up Guys have earned a stellar reputation with the residents and businesses of Nashville. We've earned this rapport for a variety of reasons. One of the main reasons though, is because of what we do with your 'junk' once we leave. The Stand Up Guys Junk Removal Crew recycles and/or donates over 60% of the items that we remove, back into the community. We believe that one man's trash can truly be another man's treasure.
The Stand Up Guys Junk Removal Crew offer a wide range of services in the Nashville Area. We remove and haul any and all household items, including junk furniture, appliances and electronics. We'll also remove anything from outside your home as well, including yard waste and construction debris. We do more than just remove junk too. We also offer clean out services and light demolition as well. This includes garage cleaning, basement cleaning and shed demo's and removals.
Amazing Junk Removal Services The Stand Up Guys Offer Nashville
More About Nashville Junk Removal
Nashville, otherwise known as 'Music City', is a beautiful, vibrant city on the rise. Nashville is not only the capital of Tennessee and the 4th largest city in the Southeast, it's also one of the fastest growing cities in the entire country! Nashville is the center for the music, healthcare, publishing, banking and transportation industries. Not to mention the home to many different colleges and universities as well. To make a long story short, Nashville is a wonderful city and a great place to live.
A lot of people are catching on to how great of a city Nashville is too. With a population of 658,602 just inside the city limits and over 1.7 million people in the entire Nashville Metro Area! Those numbers are up big from where they were just a few years prior, and yes, their growing every day.
Nashville is a city full of tradition and history. The city is one of the oldest in all of the United States. The city was founded by James Robertson, John Donelson, and a party of Overmountain Men way back in 1779, and was named after Francis Nash, an American Revolutionary War hero. The city began growing quickly right from it's inception due to it's location right on the Cumberland River.
Nashville Neighborhoods We Cover
Antioch
Donelson
Green Hills
Hermitage
Hillsboro Village
Inglewood