Household junk and clutter stacking up inside your home can be a massive added stress to your life, and sometimes you don't even know it's happening. A cluttered home can turn into a cluttered mind, which is something most of us try oh so very hard to avoid in our everyday lives. Most of the household junk and debris that stacks up inside of our homes comes from years and years of slowly collecting. It isn't something that happens overnight, or even something that you notice is happening. It just slowly enters your  home and enters your life.
Don't worry. We're not just here to point out a problem that plaques many people out there, we are here to offer a solution to that problem. The solution to the household junk and clutter issue is simple. The Stand Up Guys Junk Removal Crew!
The Stand Up Guys are the number one option for homeowners who are looking to clear our junk and clutter from their homes. Whether it be a garage full of junk that has just been stacked in there for years, or an attic full of items that you haven't seen or thought of in decades. We can help. The Stand Up Guys are here to help everyone with their junk removal needs.
---
Stand Up Guys In Cary, NC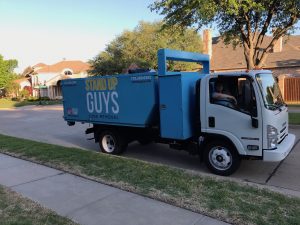 If you live in Cary, North Carolina and the above portion of this article sounds like you, then you are in luck, my friend. The Stand Up Guys are more than just the number one option for household junk removal and hauling in Cary, we're also considered Cary's Favorite Junk Removal Crew!
The Stand Up Guys have earned the title of Cary's Favorite through years of dedication to our customers, their needs and the town itself. We give back as much as we can. The Stand Up Guys even donate and/or recycle more than 60% of the items that we remove from our Cary customers. This gives our customers peace of mind when hiring us. It's nice for them to know that their old items wont just be loosely tossed away in the landfill. Instead we do whatever we can to find a new home for everything. It's just part of how we give back. We are Cary Junk Removal.
The people of Cary, NC are in love with The Stand Up Guys for even more reasons that our donating and recycling. They have tagged us as 'Their Favorite' because of our amazing customer service. We ensure that all of our customers are 100% satisfied with our service 100% of the time. The Stand Up Guys set out to offer a WOW type of experience for our customers. You can trust that you'll get the best when you hire The Stand Up Guys in Cary.